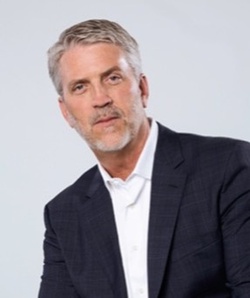 ---
Please contact a GDA agent for information.
---
Topics
Click on the topic name to see other speakers tagged with this topic.
---
Bill Eckstrom
Featured
President & Founder, EcSell Institute; International Keynote Speaker; Author, "The Coaching Effect"
Bill Eckstrom is the CEO and founder of EcSell Institute. Bill's robust professional career path has encompassed sales, sales leadership, executive leadership with both private and publicly traded companies, and as a founder of start-ups. In 2008, he established EcSell Institute to fill a void he witnessed and personally experienced in the coaching and leadership profession within businesses. Since then, EcSell's research and improvement programming has been utilized in the athletic and academic worlds, spawning his new start-ups EcSell Sports and EcSell Education in 2019.
In 2017, Bill was invited to the TEDx stage where he shared his research and experiences in a record-setting talk titled Why Comfort Will Ruin Your Life. A live audience of over 1,700 people, and 4 million more online, have since watched this talk and have insight into his now famous words: "…what makes you comfortable can ruin you, and what makes you uncomfortable is the only way to grow."
Bill co-authored the book The Coaching Effect: What great leaders do to increase sales, enhance performance, and sustain growth which was introduced in April 2019, and has been a best-seller since the first week of its release.
As a result of his broad experiences in the realms of business and athletics, along with his company's findings, Bill's work as a keynote speaker is highly regarded throughout the world. While his audiences call him "profoundly authentic," "highly entertaining," and more, Bill is most proud of the fact his material is based on EcSell's science and research—he does not present motivational fluff. He has presented to hundreds of groups throughout the world ranging in size from 25-5,000 on a myriad of poignant topics.
Lincoln, Nebraska is home for Bill and his wife. Together they have three children, Will Jr, Claire, and Maddie. Philanthropically, Bill prefers a very hands-on approach as evidenced by his current involvement and passion-- therapy dog work. He and his four-legged companion, Aspen, visit children in hospitals, senior citizens in nursing homes, students in academic settings, and offer emotional support to various athletic teams. Bill also has a strong need to be in the outdoors and finds time each year to spend in field and stream with his children and close friends.
---