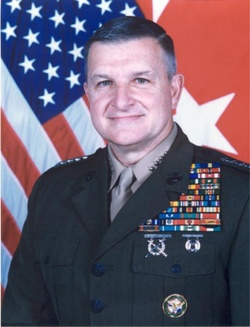 ---
Please contact a GDA agent for information.
---
Topics
Click on the topic name to see other speakers tagged with this topic.
---
Hear Anthony's
Podcast Now
General Anthony Zinni
United States Marine Corps (Retired)
General Zinni was born in Bryn Mawr, Pennsylvania in 1943 and raised in the Philadelphia area. He attended Saints Cosmos and Damian grade school and Saint Matthew's High School in Conshohocken, Pennsylvania. He currently resides in Williamsburg, Virginia. His military, diplomatic, business, and academic career has taken him to over 100 countries.
General Zinni joined the Marine Corps' Platoon Leader Class program in 1961 and was commissioned an infantry second lieutenant in 1965 upon graduation from Villanova University. He held numerous command and staff assignments that included platoon, company, battalion, regimental, Marine Expeditionary Unit, and Marine Expeditionary Force command. His staff assignments included service in operations, training, special operations, counter-terrorism, and manpower billets.
General Zinni's 23 personal awards include the Defense Distinguished Service Medal with Oak Leaf Cluster; the Distinguished Service Medal; the Defense Superior Service Medal with two Oak Leaf Clusters; the Bronze Star with Combat "V" and Gold Star; the Purple Heart, and more.
General Zinni was Chairman, CEO, and President of a major defense company, Executive Vice President of an international government services company, and President of International Operations for a manufacturing company. He has held positions on several boards of directors and advisors of major companies and has also had his own consulting business working with companies in strategic planning, business development, international marketing, customer relations, communications, and leader development.
He co-authored a New York Times Bestseller book on his career with Tom Clancy entitled Battle Ready and a foreign policy book entitled The Battle For Peace that was also a New York Times Best Seller and a Foreign Affairs Bestseller. He has written a book on leadership, Leading the Charge, published in 2009 and a national security policy book, Before the First Shots are Fired, published in 2014.
---