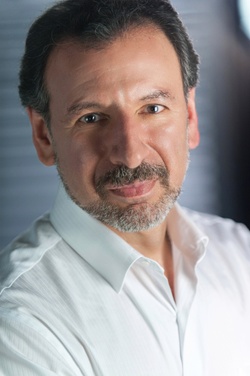 ---
Please contact a GDA agent for information.
---
Topics
Click on the topic name to see other speakers tagged with this topic.
---
Thomas Koulopoulos
Futurist, Founder Delphi Group, Author Ten books, Speaker, Columnist
Select Testimonials
Our event' went exceptionally, Thomas hit it out of the park, really great content, delivery and connection with the audience.
---
"Tom conducted a very engaging session for the Gartner CIO Leadership Forum attendees helping them consider new approaches to innovation – it is still a session they talk about to this day."
---
I've been producing meetings for over twenty years, and I've never had the pleasure of working with a more professional, flexible and accommodating keynote speaker than Tom Koulopoulos. His ability to adapt his presentation to my client's needs, including significant pre-event research and collaboration was extraordinary, and his engaging performance style is strictly top-tier, clearly communicating complex information in an easily understood manner. If you ever have an opportunity to work with Tom, jump at it! You won't be disappointed.
---
"In contrast to other keynote speakers, your willingness to engage with us prior to our conference to insure that your keynote was relevant to our diverse audience of university faculty, students, non-university partners and rural community representatives was greatly appreciated. The focus of our conference was on stepping beyond boundaries, dealing with the complexities faced in creating positive futures for rural people and places. Your high energy keynote and interactive session on the rapidity of change and generational differences of engaging and working through complexities were relevant and well received by the audience, setting a great tone for the conference. It was great working with you. Thanks."
---
"Tom Koulopoulos is a captivating speaker who brings a wealth of knowledge and vision into the presentation."
---
Your dynamic message on the future of connectivity and a digital citizenry was on point with our opening session audience of more than 3,000 attendees. Your keynote received rave reviews from our client base in our post-conference survey; in fact it was our highest rated opening session in recent years. Attendees repeatedly referenced your message, and some even quoted you throughout the conference. Thank you for listening to our objectives, understanding our mission and key messages, and delivering a presentation that was tailor-made for our audience. We would highly recommend you, without hesitation, as a dynamic and inspiring speaker.
---
"That was the best presentation I've ever heard – including all of TED Talks.
---
Tom was fantastic onstage and a complete professional to work with from beginning to end. Our participants ranked him as one of their favorite speakers of the entire event, and we even slotted him in the undesirable position of closing out the day. I'd highly recommend him to anyone looking for a dynamic speaker to not only put on a fantastic performance, but also to educate their audience on the workforce trends we all need to be prepared for.
---