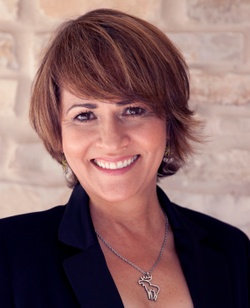 ---
Please contact a GDA agent for information.
---
Topics
Click on the topic name to see other speakers tagged with this topic.
---
Photos
Click on the image to view a high res version.
Shayla Rivera
The Funny Rocket Scientist
Select Testimonials
Hello Shayla, I just wanted to thank you for presenting here at Freddie Mac and at the Women of ALPFA! And thank you for being so flexible. You were awesome! I have received a lot of positive feedback from both events! I am already thinking about the Women of ALPFA for next year! I have a lot of things in mind, one of them being what you mentioned about the Women of comedy. I love it! I will be in touch to start planning that! Abrazos, Marie J. Ruiz, CPA, MBA
---
It was my absolute pleasure to have worked with Shayla Rivera at HISPA's annual youth conference in San Antonio, Texas. Shayla shared her incredible personal stories of success, failure, hard work, and the events that changed her life with a sense of humor that engaged students, staff and special guests. In addition, motivating a group of over 200 students from at-risk neighborhoods is quite a challenge. However, from feedback received, she was rated the most interesting/favorite speaker of the day. HISPA fully supports Shayla Rivera. We are looking forward to having her join us at our annual kick-offs and youth conferences. Aixa Acevedo Program Director
---
On Behalf of the Mt. San Jacinto College STEM program, we would like to thank you for your outstanding Keynote Address to our STEM students, faculty and community members. You were everything that we hoped for in a keynote speaker. Your energy, motivation, past experiences and humor were overall amazing and beneficial for our students. I think you were able to capture the essence of what it takes to be a STEM student: hard work, dedication, motivation and a little bit of fun. We were also honored that you took the time to return and present a hands-on workshop on Stress Management. The feedback that we received on your presentation was phenomenal. We hope to have you back in the future. Thanks for making our Summer Institute a Success! Sincerely, Mt. San Jacinto College STEM Program
---
"Shayla Rivera is Hilarious..."
---
On behalf of the Siouxland Chapter of SHRM, I would like to express our sincerest appreciation for the riveting presentation delivered to our members. We were inspired and motivated by Shayla's entertaining anecdotes to move forward and lead with sensitivity. We couldn't get enough! Thank you! Rachel Porter Recruitment Advertising Manager Sioux City Journal
---
First, I would like to thank you for speaking at our 7th Annual At-Risk Hispanic Youth Summit. Your unique and fascinating background in science, engineering and entertainment makes you a truly original and engaging speaker. Your blend of inspiration and humor was well received by everyone in attendance. We immediately received a great positive feedback from everyone. We will happily recommend you to every organization, corporation and school we work with. Thank you again Margie Gonzalez Executive Director State of Idaho Idaho Commission on Hispanic Affairs
---
My name is Megan Tull, I'm the Program Director for Texas Women in Business. We had Shayla Rivera as one of our Keynote Speakers at our Beyond 50 Event this past May, where we had more than 300 professional women in attendance. I highly recommend Shayla. She brought the house down with her incredible presentation. She had everyone laughing, crying and thoroughly entertained! One of Shayla's greatest qualities is that she has a strong charisma and connection with her audience. We received amazing feedback from our attendees regarding Shayla's presentation.
---