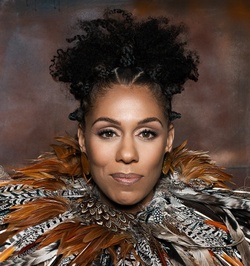 ---
Please contact a GDA agent for information.
---
Topics
Click on the topic name to see other speakers tagged with this topic.
Sarah Culberson
Princess of Sierra Leone. Humanitarian. Educator. Author
Sarah Culberson was adopted one year after her first birthday by a loving, white West Virginia couple and raised in the United States with little knowledge of her ancestry.
In 2004 Sarah took the journey to Sierra Leone to meet her birth father and family and discovered she was considered a mahaloi, the child of a Paramount Chief, with the status of a princess. After going to Sierra Leone and seeing the aftermath of an 11 year civil war she co-founded Sierra Leone Rising, a non-profit to support the community. Sarah shared her story in a book she co-authored titled, "A Princess Found". Her story has been featured on CNN, Good Morning America, BBC radio, LA Times, Singapore News and many other media outlets. Her passion for education does not stop with Sierra Leone; as Director of Outreach at the Oakwood School in Los Angeles, Sarah works daily with middle and high school students.
---