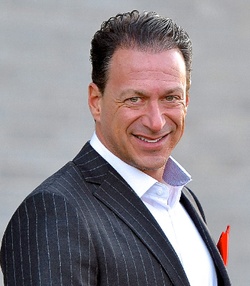 ---
Please contact a GDA agent for information.
---
Topics
Click on the topic name to see other speakers tagged with this topic.
Robert Siciliano
Riveting Cyber Social Identity Security Awareness Keynote
Select Testimonials
We engaged Robert as our keynote speaker for our company's annual Security Awareness Week and he shared four highly engaging and easily applicable presentations with more than 4,000 global employees. As an information security professional, I know firsthand how difficult it can be to take very conceptual threats and make them relevant to a large audience. Robert's storytelling abilities and his direct style made him easily relatable to our people. We received outstanding feedback and requests from employees to share Robert's presentations with their families and friends.
---
You will be pleased to know that you scored a 4.71 out of a possible 5 on evaluations of your session. Exceptionally well done.
---
Very valuable seminar. Overall rating of seminar – 4.56 out of 5.
---
On our meeting evaluations you scored a 9.8 out of 10 points and our members have given us numerous comments about what a wonderful and exciting presentation you put together.
---
We hired Robert to be our Keynote speaker during an annual Security Education Week within our company and could not have been more impressed. He was very professional, high energy and a truly well educated on a variety of different security topics. We received so much positive feedback regarding his presentation. His presentation really encompassed so much of what we are always trying to teach our associates each and every day through our own in house security training. Robert was also willing to open up to the audience about his personal life and we were all so moved hearing about his reaction first hand to the events that happened in Boston. Thank you Robert!
---
Robert Siciliano is a fantastic speaker! People are still talking about what a great speaker he was and he spoke to us over 3 months ago. He knows his material, kept everyone entertained and had a lot of valuable information to give. We will definitely get him back to our study club to again.
---
Robert was our keynote speaker at NAR's Annual Risk Management Forum. He was fantastic. He kept the audience riveted and engaged throughout his presentation, and our attendees left the seminar with valuable information that will help them stay safe in the field and online. I would recommend Robert as a speaker to anyone wishing to bolster the safety practices of their clients, vendors, or employees.
---
I am thrilled that we had Robert speak at the Philadelphia CIO Forum in May. Not only is he a dynamic speaker who captures your attention with his demeanor, but the content of this presentation is riveting—in a very scary and somewhat paranoia-laden way! There are things we all should be paying attention to, and many don't even realize how much of their information is just "out there" for the taking. I wish I could have him once a week at our management meetings, to keep people aware of all the threats to our company security there are—from within as much as from external sources! I'm definitely keeping him in mind for our next annual meeting.
---
Robert was an absolute home run to drive home vital personal security information and tips to keep our employees and organization safe from the increasing volume of threats faced everyday. The positive feedback received from the four sessions Robert taught was amazing and he was clearly the keystone aspect of our Security Awareness week. Both dynamic and engaging, his ability to connect with all 2700 employees really was a huge value added…he made us all smarter and safer.
---