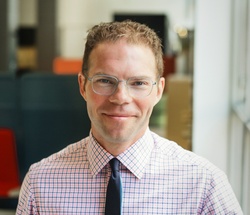 Michael Grimm
---
Please contact a GDA agent for information.
---
Topics
Click on the topic name to see other speakers tagged with this topic.
---
Greg Lindsay
Urbanist, Futurist, and Expert on the Post-Pandemic Future of Cities, Work, Travel, Mobility, and more
Select Testimonials
When we feature Greg Lindsay in our programming, we rest easy knowing that the sophistication and intellect he brings to each program will be hugely beneficial to our audiences. Greg's confidence and flexibility make him a joy to work with in the lead-up to even the most complicated events, and on-site, his expertise makes him the ideal contributor to a variety of exchanges. Comfortable in leading, solo, or supporting roles, Greg is a go-to big ideas person, gifted with the relatability and humility that make him a fantastic collaborator across a range of topics and settings.
---
Greg's presentation to an executive audience provoked new thought about the context and patterns of urban life in the 20th and 21st century. Hi presentation style was energetic, engaging, and humorous. His vivid journalistic style brought potentially dry academic topics and disparate ideas to life and created new relevance for our team.
---
Greg Lindsay recently spoke to the Southern CA group of CORENET, an industry organization for Corporate Real Estate Executives and Economic Developers. As an attendee and coordinator for this event I can attest to the success. Broken into two speaking events, morning in LA and afternoon in Orange County, Greg kept both audiences intently listening to informative information about globalization: where we are, and where we are headed. The information he provides is made up of factual history about how we got to where we are, and what the future may hold as it relates to cities, airports, mass transit and connectivity. The description of the places he enlightens the audience about, mesmerized both groups for an hour without so much as a murmur. His delivery and energy are contagious and he is superb in transforming the audience across the globe and back to the local view, beautifully. He is a pleasure to partner with, a joy to listen too, and has a way of making everyone in the room walk away feeling a lot smarter and informed about "THE BIG PICTURE!"
---
"Greg is a very energetic speaker who had an immense wealth of knowledge that was apparent to the entire audience. One hour gave us only a glimpse into the fascinating ideas and research that Greg presented."
---
This past spring, I invited Greg Lindsay to speak at a pair of Intel Labs "futurecasting" events, one devoted to the future of Big Data, and the other to the future of the workplace. In both cases, he was a smooth, polished, and beguiling speaker, alternately informing, challenging and making his audiences laugh. His prescriptions of a near-future in which your office is the city, your smartphone plays matchmaker, and your best coworker actually works for someone else were fascinating - and immensely valuable to the world's largest semiconductor manufacturer, which must constantly imagine what the world will look like a decade out. I would not only recommend him as a speaker, but I also look forward to working with him again to chart this future.
---
Greg kicked off our inaugural Purpose City event with a sweeping and inspiring talk connecting cities, stars, and serendipity. His ability to tell stories and connect the dots across multiple disciplines was exactly what we need to prime the mental pumps of our attendees, as they spent the rest of the event debating his ideas and what a "purpose city" should be. He's an energetic, funny, and engaging speaker.
---