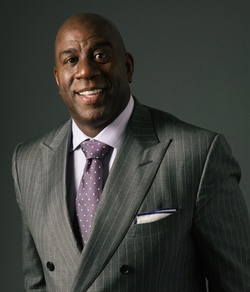 ---
Please contact a GDA agent for information.
---
Topics
Click on the topic name to see other speakers tagged with this topic.
---
Earvin "Magic" Johnson
Businessman, Philanthropist, NBA Hall of Fame
Earvin "Magic" Johnson has become one of the most successful African-American businessmen in the world. He is a Major League Baseball owner, an NBA Legend, a 2-Time Hall of Famer, an Entrepreneur, a Philanthropist and a Motivational Speaker. The business mogul has successfully parlayed his skills and tenacity on the court into the business world, propelling his company to the status of #1 Brand in Urban America.
He is Chairman and CEO of Magic Johnson Enterprises (MJE), which provides high quality products and services that focus primarily on ethnically diverse and underserved urban communities through strategic alliances, investments, consulting and endorsements. The conglomerate is comprised of multiple business entities and partnerships that include Canyon Johnson, a $1 billion dollar real estate fund, Yucaipa Johnson, a $500 million dollar private equity fund, ASPIRE, a new African-American television network, SodexoMAGIC, Magic Airport Holdings, , Inner City Broadcasting Corporation, Magic Johnson Bridgescape Academies, and Vibe Holdings, LLC - Mr. Johnson is the Chairman of the multi-cultural media company that houses the Vibe, Uptown, and Soul Train brands.
Most noted for his unprecedented Starbucks partnership, which served as the catalyst for redevelopment in urban communities and is literally the blueprint for Corporate America's engagement and success with urban consumers. In 2010, the savvy businessman divested his Starbucks and Los Angeles Lakers shares in excess $100 million dollars. However, he will continue to assist Starbucks with their community development initiatives and will remain Vice President of the Los Angeles Lakers.
Mr. Johnson has also teamed up with Tim Leiweke of AEG in an effort to build a new stadium and bring an NFL team back to Los Angeles as well as thousands of jobs to the city…The story of Mr. Johnson and Larry Bird's inspiring friendship and rivalry was presented in a theater adaptation of "Magic & Bird" on Broadway in April 2012.
Mr. Johnson also serves as Chairman and Founder of the Magic Johnson Foundation, where his unwavering commitment to transform Urban America continues through HIV/AIDS Awareness & Prevention Programs, Community Empowerment Centers, and the Taylor Michaels Scholarship Program. Celebrating over 20 years of success, the Magic Johnson Foundation has become one of the most recognizable philanthropic organizations around the world.
---