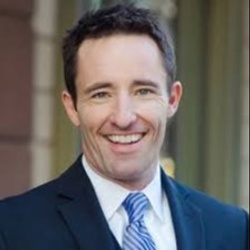 ---
Please contact a GDA agent for information.
---
Topics
Click on the topic name to see other speakers tagged with this topic.
---
David Ahearn
Featured
Keynote Speaker, Host/Emcee
David Ahearn is a national keynote speaker, host and emcee and the best-selling author of five books including "Happy Accidents: The Transformative Power of 'Yes, and' at Work and in Life". He is also a co-founder and was the host of the improvisational comedy show Four Day Weekend for more than 20 years and is currently the host of Yes, And Yoga on Amazon Prime Video.
David started his career in stand-up comedy before co-founding Four Day Weekend and has more than 30 years of live performance experience. As a co-founder of Four Day Weekend, David was named Small Business Owner of the Year by the Fort Worth Chamber of Commerce, delivered a "Yes, And" keynote address to the United States Congress with President Barack Obama and Vice President Joe Biden in attendance, and was given a lifetime achievement award for entrepreneurship from NAACE.

In 2021, David stepped away from Four Day Weekend to continue pursuing speaking and writing with a focus on health and wellness. In addition to co-hosting Yes & Yoga, he is currently developing a new Netflix show entitled Pure Life which will be filmed on location in Costa Rica. David also travels around the world teaching the power of harnessing the breath to bring out the greatest potential in each human being. His latest book, Breathe! Your Best Life is due out in early 2022.

David is the author of We'll Always Have Paris, White Tantric Yoga, 12 Universal Laws and Pura Vida. He is a sought-after speaker and host for corporate functions and lives in the Dallas/Fort Worth area.
---