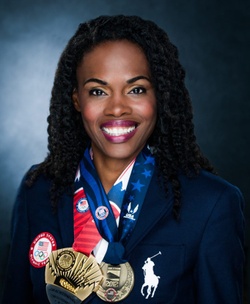 ---
Please contact a GDA agent for information.
---
Topics
Click on the topic name to see other speakers tagged with this topic.
Chaunté Lowe
Motivational Olympic Medalist, American Record Holder, Honor Student, and Breast Cancer Survivor
Chaunte Lowe doesn't strive to just break the mold — she vaults over it, leaving it behind her in the dust. This four-time Olympian's impressive rise started while she was just a sophomore at Georgia Tech when she made her first Olympic appearance. Her ambitions on the field and in the classroom showed an unparalleled drive even among the Institute's top student-athletes. Chaunte is a world champion and has broken the American record three times and is the current American record holder in indoor and outdoor high jump. She's competed in four Olympic Games and aspired to add a fifth. In addition to her athleticism, she has used her personal experiences to raise awareness of breast cancer research, early detection, and eradication. In 2019, she was diagnosed with an aggressive form of breast cancer. Despite the diagnosis, she continued to train through surgeries and chemotherapy to stay competitive for the 2020 Tokyo Olympic Games. With the 2020 Olympics postponed, she maintained her training determined to continue to use her voice to bring awareness to breast cancer. "The best gift I can give with my life is helping others find beauty in their own lives," she says.
---