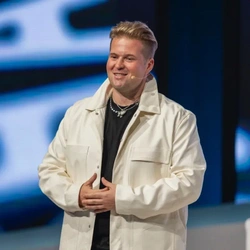 ---
Please contact a GDA agent for information.
---
Topics
Click on the topic name to see other speakers tagged with this topic.
---
Charlie Rocket Jabaley
Grammy-Winning Music Mogul; Emmy-Winning Nike Athlete; Ironman and Marathon Runner; Social Media Innovator and Creative
Millions of people in this world feel hopeless, stuck, or at rock bottom.
Charlie ROCKET was diagnosed with a brain tumor that almost killed him. For others, it's when they are facing homelessness, battling cancer, or experiencing depression. In these moments, people lose sight of a vision for a better future. All they know is their struggle.
Charlie discovered that a dream can change everything.
At rock bottom, depressed, 305 lbs, and a brain tumor, there was one thing that kept him going: his dream of being an athlete. Over the course of the next 12 months, he ran 4 marathons, completed an ironman, lost 125 pounds, and reversed his brain tumor. His dream saved his life, and he is now dedicating the rest of his life to making dreams come true for others in need of a miracle through the Dream Machine Foundation.
---