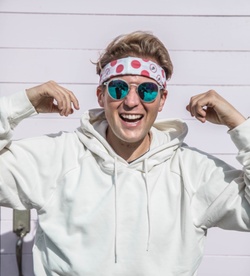 ---
Please contact a GDA agent for information.
---
Topics
Click on the topic name to see other speakers tagged with this topic.
---
Charlie Rocket Jabaley
Influencer, Hip-Hop Mogul, Motivational Speaker, Athlete and Dreamer
Have you ever dreamed so big, that it would change the lives of so many others, and end up changing your own, forever?
Charlie Jabaley wasn't your typical kid from Georgia. Sometimes labelled, "the chubby kid", Charlie was a dreamer. Knowing that he needed to use his imagination as a weapon to survive the playground, Charlie created his first persona, CEO Charlie. He had other ideas. Like pursuing the life of an athlete. But, that had to wait.
CEO Charlie dreamed of building a company. A company that took a vision of the music industry with all of it's challenges, and became one of the most innovative business management companies in modern music - Street Execs. Street Execs took artists such as Travis Porter, Young Dolph and 2 Chainz, and catapulted their careers to new heights, and importantly, the top of the charts, and touring the world. Including a Grammy win in 2017.
But even at the top of your career, you can be met with new challenges. Challenges so big, they might even end your life.
Charlie Jabaley discovered one thing CEO Charlie couldn't escape - he was heavily overweight, unhealthy, unhappy and had a brain tumor threatening to end his life, at the age of 28. CEO Charlie shortly after retired. Weighing 304 pounds. With a brain tumor that was growing. And unable to escape a binge eating disorder.
From the flames, emerged Charlie Rocket. Charlie Rocket was an athlete. Someone that inspired those around him, took on his goals, competed on a global circuit, ran professionally and lived a healthy and happy life. And here began the journey...
Charlie Jabaley, with the assistance of Charlie Rocket no less, dropped 120 pounds. Ran multiple marathons. Became vegan. Reversed the growth of his brain tumor. Got healthy. And secured the sponsorship of the most famous name in running in the world - Nike.
Charlie just completed an Ironman in New Zealand with the hope of inspiring others to know that nothing is impossible. He just finished biking across America to pursue his dream of being an athlete, transforming lives and making people's dreams come true!
His name is Charlie Jabaley. His story isn't over yet.
What's your name? What's your story?
---