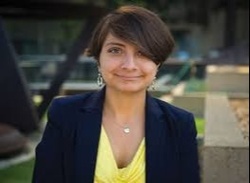 ---
Please contact a GDA agent for information.
---
Topics
Click on the topic name to see other speakers tagged with this topic.
---
Angela M. Sanchez
Formerly Homeless, Writer, Cartoonist, Magician, Education Advocate, First Generation Latino College Graduate
Angela M. Sanchez came of age in the Great Recession of the late 2000s and her writing is informed by her experiences. Namely, in 2007, when she was a junior in high school in Glendale, her father, a single parent, lost his job as an architectural draftsman. Soon after, the family was evicted from their apartment, the only home Angela had ever known. They lived in motels, stayed in cold winter shelters and then in a homeless shelter in Pasadena until the spring of 2009, when a Section 8 voucher allowed them to rent an apartment in Highland Park.
Since then, Angela has gone on to be a two-time alumna of UCLA. With her master's in student affairs, Angela's career spans higher education and philanthropy as well as some dabbling in magic (the stuff with the rabbits and card tricks), animation, and children's literature.
In 2018, the Los Angeles Times featured her children's book, Scruffy and the Egg, which tackles topics of single-parenthood and homelessness. Angela provides readings to family shelters, schools, libraries and other organizations.
Angela serves on the board of directors and DEI Committee for the Los Angeles-based nonprofit School on Wheels, Inc., which provides academic support to K-12 students experiencing homelessness. An alumna of the Riordan Leadership Institute, Angela has provided training on understanding social identities and implicit bias for organizations, such as Reading Partners Los Angeles and the Southern California Leadership Network.
---