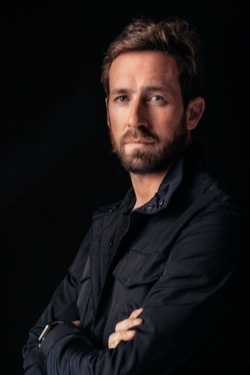 ---
Please contact a GDA agent for information.
---
Topics
Click on the topic name to see other speakers tagged with this topic.
Sterling Hawkins
Innovation, Transformational Leadership, and Exponential Growth Thought Leader
Select Testimonials
Your keynote presentation on the #NoMatterWhat System was very inspirational and had provided us with the insight and tools needed to be effective leaders at the command. [...] Your knowledge, insight and motivation is invaluable and we look forward to incorporating your system into our everyday actions as leaders.
---
"Sterling's message was highly engaging, feedback was very positive and the event increased accountability and alignment. Since the keynote, there has been a noticeable rise in team engagement and ownership. I recommend Sterling to others seeking alignment during company transformations or change initiatives. Don't think twice. Engage with Sterling! That's going to be the cement that you might be missing without even knowing it."
---
Sterling was very easy to work with, start to finish! He was available to take our calls to learn more about our company and our audience before speaking at our Annual User Group Conference, Reflexions. He was great at keeping our attendees attention and getting them excited for the rest of our event. Sterling even offered to attend our Welcome Reception to introduce himself and meet our attendees for more in depth conversations
---
Sterling delivered the best keynote we've had in our company's history! [...] His messages were inspiring, but also actionable in a way that people could grab onto and use immediately. I can clearly see how Sterling's message has sustainably impacted all of us as we continue to grow into the future.
---
Sterling was not only a delight to work with, but had rave reviews from our audience of executives! His energy was contagious, and he provided real strategies for success and inspiration, to send us out with a bang after three full days of content. Highly recommend Sterling as your next keynote!
---
Sterling combines powerful storytelling with meaningful information and tools leaving listeners excited and empowered to take action. He's one of only a few speakers I've seen that actually makes a real difference. We'll definitely have him back!
---
Over my many years running events around the world, few if any of my 2,000+ speakers delivered as remarkable a performance as Sterling did at Seamless Asia 2017.
---
"Sterling Hawkins is a game-changer! When our company was on the brink of transformation, Sterling's keynote and workshop redefined our approach and left each leader with actionable insights and takeaway value. His inspiration was the catalyst to unite the teams, open up communication, build deeper connections and turn our discomfort into a pathway of growth. Working with Sterling is a transformative experience that will make your company better and make each individual better as leaders. Sterling is the go-to expert for anyone navigating transformation or seeking to strengthen team alignment and culture."
---
The consideration and effort exhibited by Sterling and team to understand our opportunities and what we needed to address was exceptional. [...] The inspiration and impact Sterling brings to his keynote are not only a testament to his dynamic style, but a clear understanding of his audience which he actively seeks and prepares for with each organization.
---