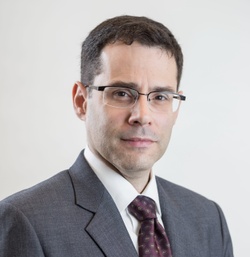 ---
Please contact a GDA agent for information.
---
Topics
Click on the topic name to see other speakers tagged with this topic.
---
Hear Michael's
Podcast Now
Michael (Misha) Auslin
Best-Selling Author on Geopolitics, Wall Street Journal Contributor and Frequent Fox News Commentator
Dr. Michael "Misha" Auslin is the inaugural Payson J. Treat Distinguished Research Fellow in Contemporary Asia at the Hoover Institution, Stanford University, and a senior fellow in the Asia and National Security Programs at the Foreign Policy Research Institute. A historian by training, he specializes in U.S. policy in Asia and geopolitical issues in the Indo-Pacific region.

Misha is the author of six books, including his latest, Asia's New Geopolitics, as well as the best-selling The End of the Asian Century: War, Stagnation, and the Risks to the World's Most Dynamic Region. He is a longtime contributor to the Wall Street Journal and National Review, and his writing appears in other leading publications, including The Atlantic, Financial Times, Foreign Affairs, and Politico. He comments regularly for U.S. and foreign print and broadcast media.

Previously, Misha was an associate professor of history at Yale University, a visiting professor at the University of Tokyo, and a resident scholar at the American Enterprise Institute. He is a Fellow of the Royal Historical Society and was a Young Global Leader of the World Economic Forum, a Fulbright Scholar, and a German Marshall Fund Marshall Memorial Fellow, among other honors. Misha serves as the Vice Chairman of the Wilton Park USA Foundation.

About Misha's Presentations

Misha brings to your organization a world-class background from policy and academia. His inside access to current and former policymakers gives him a unique perspective, and as a former professor at Yale University, Misha is one of America's most respected geopolitical analysts. His 2017 best-seller, The End of the Asian Century, was the first book to warn about the dangers in China, and his writings for the Wall Street Journal and other leading publications are read by senior government officials and business leaders around the globe. As a distinguished fellow at Stanford's Hoover Institution, one of the world's most prestigious think tanks, Misha is in regular contact with national and global leaders, allowing him to bring the most up-to-date information to his presentations. Misha's advice is sought after by the White House, Congress, the Pentagon, and leading corporations.

With humor, energy, a deep knowledge of history, and the benefit of 15 years in Washington, D.C., Misha will give your organization a serious, yet entertaining look at the most critical issues of the day.
---