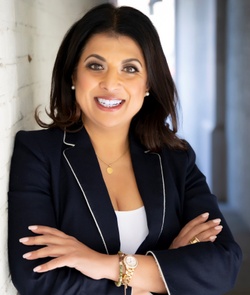 ---
Please contact a GDA agent for information.
---
Topics
Click on the topic name to see other speakers tagged with this topic.
---
Dr. Romie Mushtaq, M.D.
Brain Doctor, Speaker on Stress Management & Workplace Wellness Expert, Chief Wellness Officer
Select Testimonials
Dr. Romie had the most engaged session of our entire national sales conference including the most audience questions and participation. I know that her messaging and content really resonated with people both personally and professionally. We have partnered with her for over four years, and will be partnering with her for four more conferences in [the coming year].
---
"Dr. Romie is a dynamic speaker who is able to motivate diverse audiences, translating difficult scientific concepts into easy to understand terms for both medical and non-medical professionals. Whether you need one-on-one health and wellness consultation, an engaging speaker, or a strategic business advisor, it is with great confidence that I highly recommend Dr. Romie as the expert partner to help you achieve results!" Melissa Deloach, Director of New Business, MedThink Science
---
"I first had the privilege of interviewing Dr. Romie for our 10 Trends for 2014 and Beyond report, one of which being Mindful Living. For this trend, she provided invaluable insight and expertise, and was a pleasure to work with. We immediately extended an offer to Dr. Romie, and were thrilled when she accepted. She is truly a professional, speaking with clarity and authority on the subject of mindfulness, and exhibiting a true passion for the topic. We were fortunate to have such a terrific speaker for our audience."
---
"I just want to say that I had the extraordinary pleasure of listening to Dr. Romie speak in San Diego at the Evolution Hospitality year end renewal. I brought back great information for my team and wife. We immediately started a one hour power own of electronics before bed and can already feel the difference. Thank you so much for sharing your words and love, truly a life changing experience. Regards, Scott G. Gorman
---
I was skeptical about presenting a topic of mindfulness to our educators and leaders at our annual conference, then Dr. Romie took the stage and had the undivided attention of the entire audience. I realized that my resistance was because I needed to hear her message. I hired her backstage to work with our entire organization.
---