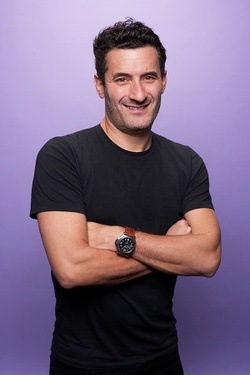 ---
Please contact a GDA agent for information.
---
Topics
Click on the topic name to see other speakers tagged with this topic.
---
Photos
Click on the image to view a high res version.
Matt Britton
America's Millennial & Gen Z Expert; Sold First Ads To Ever Appear On Facebook
Matt Britton is America's leading expert on the millennial generation having consulted for over half of the Fortune 500 over the past two decades. Matt's unique ability to connect the dots between the new consumer culture of today and the business trends of tomorrow is what separates him and offers unique value for his clients.

Matt's best-selling book titled YouthNation, which debuted at #1 on Amazon's business book list has created the modern day roadmap for corporations large and small alike to approach a generation with power and influence unlike any other emerging demographic in history.

In 2002 Matt founded MRY, a digital and social media marketing services agency, which he would grow from a one-person startup to a global powerhouse with over 500 employees. Over the course of Matt's 14-year career at MRY, the agency he founded helped prominent Global corporations including Microsoft, Procter & Gamble, Ford Motors, Visa, whom Matt helped lead into the social media era.
Matt is the premier global keynote speakers at the major conference and corporate events around the world. During the past year, Matt has been hired by corporations including Microsoft, General Motors, Subaru, Citibank, Facebook, HP, and Procter & Gamble to inspire corporations as well as arm them with practical know-how on how to embrace change today!
Matt's latest venture, Suzy. s being touted as Siri for brands, Matt and his team are bringing the voice of real consumers directly to brands at scale and at the speed of culture and touts investors such as NBA star Kevin Durant. Suzy helps companies like Netflix, Coca-Cola, Procter & Gamble, Johnson & Johnson, Citibank, Verizon, Nintendo and Nestle, among others, validate critical assumptions so they can focus on creating compelling new products, developing effective marketing strategies, and validating direct offers that increase conversion, improve path-to-purchase and drive growth.
Learn more at www.MattBritton.com
---