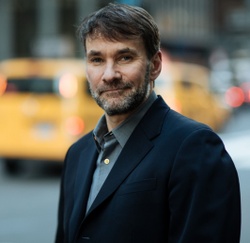 Photo Credit: Keith Ferrazzi
---
Please contact a GDA agent for information.
---
Topics
Click on the topic name to see other speakers tagged with this topic.
Keith Ferrazzi
#1 NY Times Bestselling Author of Who's Got Your Back and Never Eat Alone
I founded Ferrazzi Greenlight in 2000. Since then, we've cracked the code to what unlocks team potential and turns a group of individuals into a high-performing team. Since 2010, we've been at the leading edge of research on how teams can embrace hybrid work for even greater performance.

A Co-Elevating team is committed to the mission and to each other—equally. Each team member shares a balance of peer-to-peer accountability and heart, encompassing a powerful combination of mindsets, tools, and practices. When unleashed, the union leads the highest-performers to put their egos aside, put the mission first, and share the leadership load with peers to achieve extraordinary results.

Our model helps executive teams:
-Coach new high-return team practices that increase growth and value
-Understand that real business success isn't about individual leadership; it's about a leader's capacity to develop a team
-Work on peer-to-peer feedback and vastly improve candor
-Become a true Co-Elevating and Radically Adaptable team agile enough to meet the next major business challenge and opportunity

I'm the author of Competing in the New World of Work, the NYT #1 bestseller Who's Got Your Back, Leading Without Authority, and Never Eat Alone. I'm also a regular contributor to publications like Harvard Business Review, The Wall Street Journal, Fortune Magazine, and Forbes.

You may have seen me on the Today's Show or CNN, as a keynote speaker on some of the largest stages in the world, or giving a challenge talk in an intimate leadership team setting. In 2018, I was recognized by Toastmasters International with the Golden Gavel award for being a top global speaker. I wish my steelworking dad, who was a Toastmaster himself, would have been alive to see that.

I am also proud to be a member of Transformation 50 — World 50's peer community for senior-most executives driving large-scale organization transformations.



---