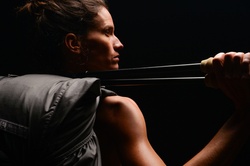 ---
Please contact a GDA agent for information.
---
Topics
Click on the topic name to see other speakers tagged with this topic.
---
Photos
Click on the image to view a high res version.
Jennifer Pharr Davis
The Trailblazer: Hiker, Speaker, Author, Entrepreneur
Jennifer Pharr Davis is an internationally recognized adventurer, speaker, author and entrepreneur who translates her experiences into a path that allows people to better navigate their work and their world.
An expert on "what it takes to keep going," Jennifer has covered more than 14,000 miles of trails on six different continents. In 2011, she set the overall record on the Appalachian Trail by finishing the 2,185-mile footpath in 46 days – an average of 47 miles per day. She is the first and only woman to hold this title.
Jennifer is a proponent of "moving women forward" in every season of life. And she has exemplified that by backpacking 700 miles in her second and third trimesters of pregnancy, walking across North Carolina while nursing her newborn son, and hiking in all fifty states with her two-year-old daughter. She
As a speaker, Jennifer has shared her stories and outside-the-box insights with Fortune 500 companies, conferences, secondary schools and universities. She embodies endurance and ingenuity, is an expert on self-care in extreme environments, and is highly regarded for her ability to relate her backcountry adventures to a variety of audiences and objectives.
Jennifer is an author who has published ten books, including her recently released "empowering blueprint on resilience" The Pursuit of Endurance (Penguin Random House) and her best-selling adventure memoir Becoming Odyssa. She has also written articles for The New York Times, Outside magazine and Backpacker.
Jennifer founded Blue Ridge Hiking Company in 2008 and was named the Asheville Chamber's Woman Entrepreneur of the Year in 2019. Her business strives to make the trails "enjoyable and accessible" through its Asheville based shop, Appalachian Trail Bunkhouse, and professional guiding service.
Jennifer is featured in the 2020 IMAX Film Into America's Wild (narrated by Morgan Freeman), was a board member for the Appalachian Trail Conservancy, and currently serves on the President's Council for Sports, Fitness and Nutrition. She has been been named a National Geographic Adventurer of the Year and one of Men's Journal's 25 Most Adventurous Women of the Past 25 Years.
But more than her accomplishments, it is Jennifer's capacity to connect with people and inspire them to engage positively with their work, their community and their environment that makes her... The Trailblazer.
---