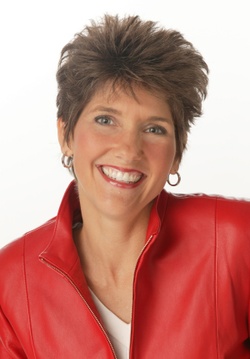 ---
Please contact a GDA agent for information.
---
Topics
Click on the topic name to see other speakers tagged with this topic.
---
Photos
Click on the image to view a high res version.
Zonya Foco
America's Nutrition Leader
Energize Your Meeting, Audience or Worksite.
Zonya presents high-energy, high-content keynotes and seminars that help audiences achieve maximum results in their nutrition, fitness and overall wellbeing! She focuses on breaking down the barriers that turn knowing into doing.
Zonya is creator and host of "Zonya's Health Bites," a weekly half-hour show that airs on PBS stations nationwide. She has also produced a two-hour PBS special entitled "DIET FREE with Zonya Foco, RD." Her energetic and magnetic presence on national public television stations has been integral to her success in bringing her inspiring message of health and wellness to the masses.
Zonya was sought out by Bob Greene, Oprah's personal trainer, to be their guest presenter for "Oprah & Bob's Best Life Challenge," a 17-city life-changing tour dedicated to helping people across the country fight obesity by committing to the ideal of a healthy lifestyle.
Her passion for offering sound nutrition and fitness advice to a nation so desperately in need - as well as her undeniable gift of humor - has resulted in her tremendous success as a Certified Speaking Professional. She is honored to include companies and organizations like the Ford Motor Company, Blue Cross and Blue Shield, the Mayo Clinic, and the U.S. Attorney's Office and more as those whom she has helped to motivate and inspire.
Zonya's best-selling cookbook, Lickety-Split Meals, is truly "more-than-a-cookbook." She has created a unique and easy to use "kitchen countertop coach" that helps busy families put healthy meals on the table, and it includes assistance with menu planning, grocery lists and efficient, nutrient-rich meal preparation.
Zonya has created a ten-week worksite wellness program being utilized by individuals and groups across the country. DIET FREE, The Eight Habits That Will Change Your Life, has brought hope and life-saving success into the lives of its participants - relying on Zonya's ability to deliver equal parts entertainment and education while inspiring her participants to change their lives forever. In fact, many have said that adopting a healthier lifestyle has never been easier or more fun!
In addition to spreading the word through her speaking platform, books, TV show, and video seminar program, Zonya has appeared on local newscasts across the country, nationally syndicated daytime talk shows and QVC. She has been published in the popular magazines Prevention, Shape, Fitness, Today's Dietitian, Total Health, and Fast and Healthy Cooking.
Most recently, Zonya has partnered to bring EatREALAmerica.com to individuals and worksites as inspiration to "replace processed food with wholesome." By providing practical next-steps to the "too busy," Zonya helps the diet-downtrodden discover the freedom and benefits of using REAL food ingredients in their quest for health.
If you're expecting a lecture-style presentation from this "energizer health bunny" - DON'T! Zonya pulls out all the stops in her live presentations, video seminars and TV show. Zonya unfailingly helps her audiences laugh at their lifestyle faux pas and discover the joy and freedom of healthier habits - that turn the life they have, into the life they want.
---