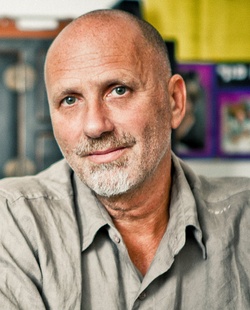 Photo Credit: Yossi Ghinsberg
---
Please contact a GDA agent for information.
---
Topics
Click on the topic name to see other speakers tagged with this topic.
---
Hear Yossi's
Podcast Now
Yossi Ghinsberg
The Power to Survive, Inspiration for the Movie 'Jungle'
Select Testimonials
It's always a challenge to find speakers of the right calibre for these high profile events. Your story was both fascinating and challenging. You possess the extremely rare gift of a great storyteller with the ability to create word pictures which capture the imagination of an audience and take them on a journey with you. We look forward to an opportunity to work with you again in the future.
---
"Your story and style of delivery was extremely moving and inspiring, as you saw for yourself. You speak in a way that allows your audience to relate the content easily to their own situations, making it all the more powerful an address."
---
"Strength, a positive bent of mind and the hunger to survive is what Yossi exudes, all equally important qualities for survival in the Corporate world. His simplicity in recounting his Amazon tales sans a fraction of fear, speaking straight from his heart left everyone humbled for this great gift bestowed on us called 'life'. He was truly moving and yet inspirational."
---
"The way he tells his story of survival and describes the details of his and his companion's plight makes you feel that you are right in the midst of it. I only can recommend Yossi and his ability to capture audiences to anyone who has the need to add the extra and unexpected to a function of any kind."
---
Thanks again for giving the talk this week, it was very exciting for us to hear your story! Many people texted me and said it was such a great talk! Here are some of the responses we have received from our attendees: - Thanks for organizing the talk, it was super interesting. - Yossi is definitely a unique character. - Wow Wow what a truly fascinating and inspiring man!! - I enjoyed every minute and could stay two more hours listening to him. - For me this is the best lecture so far! - Thank you very much for setting this up - it was super inspirational! - Unbelievable story and great insights!
---
Thank you for your invaluable contribution to our recent Nokia Day conference. Your address was perfectly suited to our theme. Feedback received from the group was outstanding which can only be attributed to your ability to communicate the events you experienced whilst in the Amazon. The storytelling at the themed dinner was superb with all staff mesmerized by your presentation.
---
Spectacular, inspiring, emotional, breathtaking... all of these superlatives and more have been used by delegates who were privileged to hear you. You have touched many hearts with your wonderful story and people who have now read your book following the conference keep talking about 'this inspiring man called Yossi Ghinsberg
---