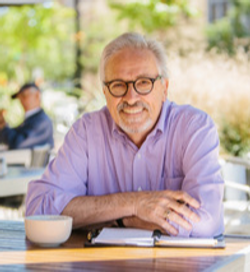 ---
Please contact a GDA agent for information.
---
Topics
Click on the topic name to see other speakers tagged with this topic.
---
Dr. Will Miller
Comedian and Authority on Stress Reduction and Life Balance
Select Testimonials
"As you gathered by the audience response, you were 'wildly successful.' I'm also glad that we listened to your suggestion, so that your presentation had the greatest impact on the crowd."
---
Even though I thanked you in person after the event, I wanted to thank you on behalf of our entire organization. We are all grateful for the tremendous job you did for us.
---
"I have had nothing but positive feedback for your performance at our recent Annual Meeting. This is the first time in years where the audience didn't jump up to leave, but rather had to be told that the party is over. It was a great pleasure!"
---
"It was a pleasure working with you at IBM's Golden Circle recognition event. You were consistently rated by attendees as the best out of all presentations. In addition, your willingness to tailor your material to our audience was greatly appreciated. Finally, your sensitivity to IBM's corporate culture made my job easier, I never had to worry that you would offend anyone in the audience. I couldn't have asked for anything more."
---
"Your presentation in San Antonio during our national sales meeting was fantastic. I received nothing but positive reviews about you from my group. "Awesome," "humorous," excellent" and "knowledgeable" were just a few of the comments. As the keynote speaker closing out our first day, you provided exactly what we were looking for – an energetic and humorous yet meaningful and applicable presentation. It's hard to keep 250 people engaged at the end of the day but you managed to do so. Thank you"
---
"Thanks for a wonderful, witty, and touching presentation that absolutely delighted everyone at our national United Way Leadership Conference in Nashville. If your appearance was our great experiment, you were the Eureka! I heard so many great comments, it's clear you were a big hit. You were a pleasure to work with too."
---
"It was a treat to have you speak at our conference on Monday.  Your presentation was terrific!  You will be the topic of conversation at Horizon for quite some time.  We've had several requests to have you back."
---
"Will's teaching about the impact of popular culture on stress offers a unique and incisive analysis of the challenge of the modern lifestyle. And since these powerful ideas are wrapped in standup comedy, the reaction is always positive.
---
"Will Miller was a hit at the luncheon, could not have been better.  Everyone thoroughly enjoyed his take on the culture and his style really hit home with our membership."
---
"Wow! You were an incredible success at our All Utility Meeting. In fact, as anticipated, you were the main event. I have attached our feedback from the meeting. You will note that you received the highest rating, and people continue to comment on your presentation. It was a privilege and a joy to meet you. I hope our paths cross again."
---
"You did an outstanding job as our keynote speaker for our Annual Claims Conference.  I laughed so hard, I had tears in my eyes.  You entertained us and made us reflect on the important things in life, the people who have and need 'Refrigerator Rights.' This was truly an event to remember."
---
"Words barely seem sufficient to express my thanks for the outstanding comedy/ motivational presentation you delivered at our sales rally. This was a group in need of some good laughs and some wise counsel on how to balance the pressures of the office with the responsibilities and joys of life. Your performance helped us take a giant step forward in putting this company on the road to peak performance. For that we are eternally grateful!"
---
"As you promised, Dr. Will Miller was an overwhelming success at Alliant's October Leadership Retreat! Will did a superb job. His extensive educational background and ability to assimilate complex information into his act were the foundations to his success with our group."
---