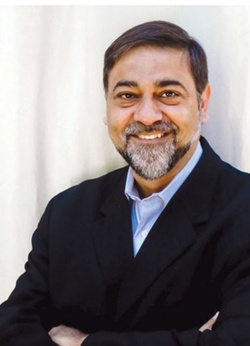 ---
Please contact a GDA agent for information.
---
Topics
Click on the topic name to see other speakers tagged with this topic.
---
Vivek Wadhwa
Featured
Author, Academic, Speaker, Entrepreneur
Vivek Wadhwa is a Distinguished Fellow at Harvard Law School's Labor and Worklife Program. He is the author of five best-selling books: From Incremental to Exponential; Your Happiness Was Hacked; The Driver in the Driverless Car; Innovating Women; and The Immigrant Exodus.
He has been a globally syndicated columnist for The Washington Post and held appointments at Carnegie Mellon University, Duke University, Stanford Law School, UC Berkeley, Emory University, and Singularity University.
Vivek is based in Silicon Valley and researches, speaks, and writes about advancing technologies that are transforming our world. These advances – in fields such as robotics, artificial intelligence, computing, synthetic biology, 3D printing, medicine, and nanomaterials – are making it possible for small teams to do what was once possible only for governments and large corporations to do: solve the grand challenges in education, water, food, shelter, health, and security.
In 2012, the U.S. Government awarded Wadhwa distinguished recognition as an "Outstanding American by Choice" for his "commitment to this country and to the common civic values that unite us as Americans."
He was also named one of the world's "Top 100 Global Thinkers" by Foreign Policy magazine in that year; in June 2013, he was on TIME magazine's list of "Tech 40", one of forty of the most influential minds in tech; and in September 2015, he was second on a list of "ten men worth emulating" in The Financial Times. In 2018, he was awarded Silicon Valley Forum's Visionary Award, a list of luminaries "who have made Silicon Valley synonymous with creativity and life-changing advancements in technology."
---