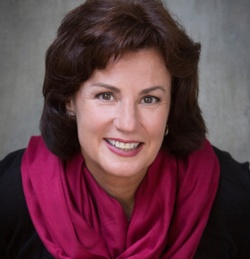 ---
Please contact a GDA agent for information.
---
Topics
Click on the topic name to see other speakers tagged with this topic.
---
Photos
Click on the image to view a high res version.
Tricia Molloy
Corporate Leadership Speaker on Work-Life Balance and Achieving Goals
Tricia Molloy is a work-life balance strategist and an acclaimed corporate leadership speaker. She specializes in empowering emerging leaders. Organizations like Marriott, Kellogg's, the CDC and the Network of Executive Women hire Tricia to inspire their people to perform at their best every day. She is the author of "Working with Wisdom: 10 Universal Principles for Enlightened Entrepreneurs" and the "CRAVE Your Goals!" and "DESIGN Your Ideal Life!" ebooks.
Tricia started her own public relations firm, Molloy Communications, in 1988 to support the success of other passionate business owners. In 1997, while married with three-year-old twins, her husband died suddenly of a heart attack. This traumatic loss was a painful reminder of how fragile life can be and the importance of focusing our time and energy on what really matters. She vowed to make the most of every day and inspire others to do the same. That's what led her to write her book and start her Working with Wisdom speaking, training and mentoring firm in 2006.
Known as "The Queen of Serene," Tricia's wise, peaceful presence and common-sense advice are welcome in today's challenging, complex business environment. Through conference keynotes and breakout sessions, and employee development talks, workshops and webinars, Tricia inspires people to achieve their professional and personal goals faster and easier by capitalizing on the power of their subconscious mind and life-changing principles—like Visualization, Affirmations and Gratitude.She also facilitates vision board workshops for high-potential employees.
For professionals who want to enjoy more success at work and in life, Tricia offers a one-on-one, short-term coaching program.
A trusted media resource, Tricia has been featured in Entrepreneur Magazine, The Atlanta Journal-Constitution, the Atlanta Business Chronicle and on radio and television. She is a contributing author in "Good Business: Putting Spiritual Principles Into Practice at Work."
Tricia is a board member of the Georgia chapter of the National Speakers Association, where she serves as director of marketing. She's also a member of the Network of Executive Women where she contributes to The Juggle blog and speaks at their national conferences.
A native New Yorker, Tricia earned her broadcast journalism degree from New York University and was an award-winning radio talk show producer in New York and Phoenix before becoming an entrepreneur. On a personal note, Tricia and her husband, Rick, are the parents of twins, Connor and Allyson. They live in the Atlanta suburb of Marietta with their joyful golden retrievers, Lucy and Bella. Whenever they can, they're playing at their beach home in Gulf Shores, Ala.
As she encourages others to find their life purpose and make it their life's work, Tricia is fulfilling hers, which is: Through support and by example, I inspire others to follow their dreams and live joyfully on purpose.
---