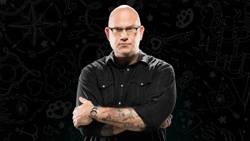 ---
Please contact a GDA agent for information.
---
Topics
Click on the topic name to see other speakers tagged with this topic.
---
Hear Todd's
Podcast Now
Todd Dewett, PhD
Inspiring Authenticity in Leadership, Sales, Innovation, Culture, and Customer Experiences
Select Testimonials
Todd is just captivating – fun and huge energy! His positive life-affirming messages are always a hit with our leadership team and staff. The way he uses stories is powerful and relatable – they are messages with lasting impact.
---
When you start listening to Todd, he just sucks you in. There is something about the quality of the message and the energy in the delivery that brings it all to life. He makes leadership relevant and practical. After the talk, you could still feel it – the whole team loved the session. It's like he makes you believe that more is actually possible. Super educator and motivator – we are looking for an opportunity to bring him back!
---
I hire top speakers all the time and I can honestly say that Todd Dewett is one of the most effective motivational speakers on the planet. Clean, clear, value-added material with useful take-a-ways all wrapped up in an energy that is infectious. If you need a leadership expert who can flat-out delight a large crowd, you're not going to find anyone better than Dr. Dewett. He's a tremendous educator, but also a seriously skilled performer and extremely easy to work with right out of the gate! We can't wait to work with him again.
---
Dr. Dewett is the best public speaker ever! The way he tells a story is like nothing you've seen. He holds the entire audience in his hand. It's like he's speaking directly to you. Next thing you know, you're laughing, crying, and somehow an entire hour has passed! Just spectacular!
---
The consensus of the surveys can be summed up in two words: GREAT SPEAKER! All of the surveys were positive, not one negative comment. They all loved how relatable your stories were to our professional and personal life, loved how you kept their attention and could have listened to you longer. I definitely agree with them and want to THANK YOU again for speaking at our event.
---
We hired Todd to speak to a large employee group, and he absolutely nailed it. His confidence and expertise are compelling, and his ability to show honest emotion and make you feel emotions is totally engaging. The audience was eating it up. He talked about leadership and relationships in a way that anyone can understand using stories that will be seared in our brains forever. He might be the best speaker I've ever seen.
---
I've hired speakers for events for many years, and Todd is one of the best I've ever seen. Our audience is savvy and intelligent, they expect a lot out of a speaker – and he exceeded expectations! In a hybrid virtual and in-person event, he captured everyone by delivering quality advice and stories that inspire. Worth every penny!
---
Todd delivered a rousing keynote to me and my realtor colleagues at a leadership offsite. He had us from the word go. I thought we might enjoy a little education that day, but this was so much more. Practical perspectives you can use, stories to light a fire and help you remember what matters. Dr. Dewett truly makes you believe that you can become a better version of yourself – and help your team do it too. No wonder he received a standing ovation at the end of the speech. Hire him and you'll understand. Wow!
---
Todd was the perfect keynote to kick off our marketing event. He even tailored his content to speak directly to our audience! It doesn't get more authentic than that. He was entertaining and his message set the tone of authenticity which carried throughout all of our programmings. We may have rocked to some AD/CD before go-time – he's exactly who we needed!
---
You have to see him live to appreciate the energy. For nearly two hours Todd kept my senior team seriously engaged. His insights on leading for innovation and transformation are priceless. The content plus the electric delivery definitely helped our group believe that more is possible. Todd's simply one of the best storytellers you'll ever meet. He makes any leadership retreat special.
---