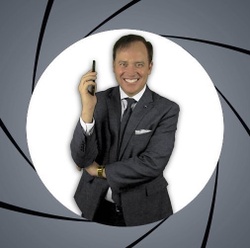 ---
Please contact a GDA agent for information.
---
Topics
Click on the topic name to see other speakers tagged with this topic.
---
Tim O'Shea
The Agent of Change
What do you get when you combine:
a specialist in human behavior
a former corporate professional with a background in organizational psychology
a seasoned professional humorous keynote speaker who has made thousands of audience laugh
and an expert with multiple certifications in strategic and tactical self-defense, executive protection high-performance driving, and has even trained with law enforcement professionals, Secret Service agents and officers from the CIA?
You get O'Shea…Tim O'Shea - The Agent of Change.
Tim shows leaders, managers, and teams how to think strategically and effectively handle workplace dynamics by helping people avoid the negative impact our thinking habits can have on success. He motivates leaders to see new perspectives, inspires teams to support each other, gets people laughing about their everyday workplace situations, and helps organizations thrive during change.
Tim O'Shea spent 17 years in the corporate sector working in sales, recruiting, interviewing and human resources before becoming a full-time professional keynote speaker. His entertaining style and good-natured humor has earned him multiple awards, and he speaks to corporate and association audiences internationally. During his corporate career, he was laid-off 4 times, survived 6 different mergers, and held 11 different job titles. This is why he works for himself now.
---