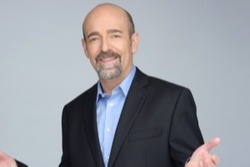 ---
Please contact a GDA agent for information.
---
Topics
Click on the topic name to see other speakers tagged with this topic.
---
Steve Rizzo
The World's Funniest Motivational Business Speaker…But Don't Let The Laughter Fool You!
Select Testimonials
You brought the crowd back from the dead. Your humor was hilarious and your message hit home.
---
Thanks for being among the small number of speakers who make a big difference.
---
Steve Rizzo spoke for our audience of around 600 frontline travel agents. He knocked it out of the park! His combination of business strategies and humor resonated with the young, old and in-between. He talked about getting your SHIFT together and showed us how to go through the day with an unstoppable attitude to succeed. A standing ovation by all 600 attendees was truly a sight to see! In addition, it was wonderful to see countless attendees approach him to say thank you.
---
WOW! Sales people are a tough crowd and you absolutely nailed it! I can't thank you enough for the mix of humor, purpose and passion you brought to the conference. You have a talent of drawing in a crowd and reminding them what business and life are all about! Thank you, thank you, thank you!
---
I have been organizing National Sales meetings for 18 years and nobody has delivered quite like Steve.
---
Steve's presentation was the BEST of the BEST!
---