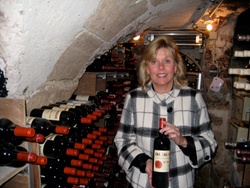 ---
Please contact a GDA agent for information.
---
Topics
Click on the topic name to see other speakers tagged with this topic.
---
Randa Warren
Master Sommelier, Certified Wine Educator
Select Testimonials
When asked to present a wine tasting and education event for a group of our clients, Randa Warren created an unforgettable evening that attendees are still raving about. What could have been a routine business dinner became an engaging, witty, fun and informative evening. Randa's knowledge was shared with each and every pairing in a way that everyone could relate to and with humor that helped each of us retain what we learned. Her interactive presentation certainly made us all leave feeling like Masters ourselves and inspired to enjoy wine in expert fashion for years to come.
---
Randa Warren – well, she knows wine, for sure! Randa has spoken at several client events over the years, and I find her to be the ultimate "anti-snob". She could dazzle us with her knowledge (after all, she has reached the peak of her profession as a Master Sommelier!), but she chooses to keep it simple. Her wine choices are perfect for each occasion, and reasonably priced. One walks away with an appreciation of wine, and what foods to serve with it. The crowd favorite was always the "sabering" of the champagne bottle, before and after which Randa was quick to add "don't try this at home". In a perfect world I would host wine events all the time, and Randa would be the guest of honor. - October 2017
---
We were delighted to present Randa Warren at a recent client appreciation event to a very special select group. Having enjoyed one of her dinner/wine pairing events earlier along with her impressive professional bio we were somewhat concerned about raising expectations too high. This critically important gathering, however, are still raving about the unforgettable evening. She was engaging, witty, fun, humorous, as well as, informative. Randa shared her vast knowledge in exactly the right amount and style so that everyone was able to relate and take away useful new insight about wine and food pairing. All of us were appreciably better educated and inspired to enjoy wine more expertly for years to come. We are constantly looking for opportunities to utilize Randa more often.
---
Wow! What an adventure Randa took us on! She has such an incredible way of presenting wines, that she could make a wine drinker out of anyone! Randa is kind, considerate, helpful. Her expertise in French was an added bonus. There are so many wonderful sides to her. We would love to go on another trip with Randa. We had the best time ever! - October 2017
---
I traveled with Randa Warren, Master Sommelier, on my first wine tour of the Burgundy region of France in October of 2016. It was a delightful learning experience because Randa has a wonderful, informal, but highly informative way of educating enthusiasts about wine and wine tasting the master's way. Even though her credentials are impeccable, she is not a "wine snob". She is witty, approachable and makes wine and wine tasting interesting and easy to understand. I thought I knew a fair amount about wine until I toured with Randa!! I recommend, without reservation, any opportunity to learn wine and wine tasting from Randa.
---