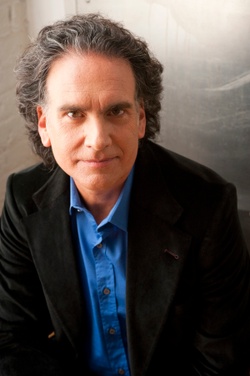 ---
Please contact a GDA agent for information.
---
Topics
Click on the topic name to see other speakers tagged with this topic.
---
Hear Peter's
Podcast Now
Peter Buffett
Emmy Award-winning Musician, Philanthropist and Author
Peter Buffett has an acclaimed career that spans more than 30 years as an Emmy Award winning musician, composer, philanthropist and author. He began his career as the musical mind behind many of the early MTV bumpers of the '80s, and the climactic crescendo in the memorable "Fire Dance" scene in 1990's Oscar winning film Dances with Wolves.
Buffett has received critical acclaim for his Native American-inspired music, most notably composing the full score for 500 Nations - the eight-hour Emmy-awarded CBS miniseries produced by Kevin Costner. Peter also conceived and composed the musical production Spirit: The Seventh Fire - a Native American inspired show incorporating live native dancing, powwow singing and IMAX-scale visuals (which premiered on the National Mall as part of the opening of the Smithsonian's National Museum of the American Indian in Washington D.C.).
From 1987 to present, Buffett has released 16 records, and has been signed to such labels as Narada, Epic and Hollywood Records. He also owns two independent labels, BisonHead and BeSide Records. Most of his releases had been instrumental recordings until 2006 when Buffett began experimenting with vocals and a more eclectic pop/rock sound.
Buffett has collaborated with Grammy-nominated recording artist Akon as well as Grammy-winning artist Angelique Kidjo on human rights inspired songs, one of which, Blood Into Gold, debuted at a special event at the UN General Assembly. He is also the only man to have performed at Eve Ensler's 10th Anniversary V-Day Celebration in New Orleans.
Peter is the co-president of the NoVo Foundation and co-chair of its Board of Directors. In partnership with his wife, Jennifer, he helps to guide NoVo's vision, strategic mission, and program development. The NoVo Foundation focuses it's efforts in four key areas: Working sysetmically, they invest in the world's largest under-valued asset by Advancing Adolescent Girls' Rights; Ending Violence Against Girls and Women; Advancing Social and Emotional Learning; and Promoting Local Living Economies. Peter and Jennifer were named in Barron's list of top 25 most effective philanthropists in 2009 and 2010.
Buffett's inspiring book, Life Is What You Make It, has been translated in over 15 languages and has sold nearly half a million copies worldwide. Described by former President Bill Clinton as "a wise and inspiring book that should be required reading for every young person seeking to find his or her place in the world" Life Is What You Make It is about following one's passions over conventions, taking up the reins of your destiny, and living life to the fullest.
To bring the message of the book alive, Buffett has crafted Life Is What You Make It: A Concert & Conversation with Peter Buffett, a live music event that incorporates personal stories, photos and video, to give the audience an authentic, inspirational, and impactful evening. The show has been performed throughout the United States, Canada and China. Using his own life story and experiences as illustration, Buffett ultimately conveys that it's ones values-and what we are able to give back to society-that shape and define us as individuals. Buffett's integrity, candor and musical talent make for an uplifting and rewarding evening.
---