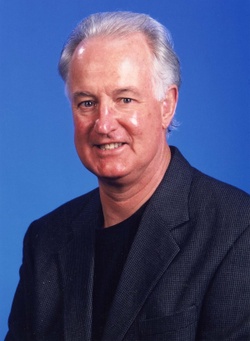 ---
Please contact a GDA agent for information.
---
Topics
Click on the topic name to see other speakers tagged with this topic.
---
Pat Williams
Senior Vice President of the NBA's Orlando Magic
Select Testimonials
Pat Williams received a standing ovation—something our crowd does not give easily. Speaking at a Saturday morning breakfast is not the easiest time slot either, but our folks were intrigued by his talk. It was very thoughtful, inspiring and humorous at points. It was a well-rounded talk that appealed to all.
---
Pat's teamwork talk was incredibly inspiring and motivating. He did a great job adapting his points to our audience and I heard several attendees say he was hands down one of the best speakers they have ever heard. Pat personally signed copies of his book "Extreme Dreams Depend on Teams," which we mailed out to each attendee as a thank you gift. We can't thank Pat enough for making such an impact on our event. He's certainly raised the bar for future speakers we bring in.
---
After you spoke to us last week, there has been a "buzz" in our department about the content of your speech as well as your superlative delivery. As I walk the halls of our department, you would be surprised how often the staff initiates a conversation about what you reviewed with us about leadership. In fact, a number of staff members took excellent notes and have distributed those notes to many others in the department. The points you made with us will undoubtedly provide the basis for our leadership discussions. Thank you!
---
Your enthusiasm was enlightening, and during your presentation you were able to catch and keep the attention of all of the participants. We thought your presentation was incredible and thought-provoking. Thank you providing the attendees with a very stimulating and useful session for both their personal and business lives. The comments we have received from them on their evaluations forms have been very positive and many have indicated a strong desire to have you back as a future speaker.
---
I want to thank you for your gracious support and presence at our Food & Beverage Conference. Your remarks were an inspiration for all of us and will have a positive impact on making a difference in our lives. Many leaders have come up to me and said how much they have enjoyed your book and I want to thank you for staying to sign them.
---
I want to thank you for awaking the senses and the desire of the entire staff and management team of Crown Marketing Group through thought, experiences and laughter. The messages you delivered transcended every level, culture and creed, and made all of us completely enthralled throughout. Nobody wanted the presentation to end. As you are aware, your presentation inspired our company's president to purchase 320 copies of your book, The Magic of Teamwork, which we presented as a gift to each of our employees.
---
As the keynote speaker, you surpassed our expectations. You inspired, enlightened, and challenged the audience with your stories on your life experiences. Your wisdom in regards to the "Keys to Quality Success" was inspirational. You captured the minds and hearts of the audience with stories regarding your family. Please accept my personal thanks for helping the Coco-Cola Company bring added value to our customers.
---
Pat, it was great meeting you last week and having dinner with you at our Winning Is Everything Conference in Las Vegas. You delivered an amazing presentation! It was the BEST one I've seen in 28 years, and I've seen a lot of them! I felt bad for the speakers that had to follow you as they were all compared to you (and they didn't have a chance). You left me with two great takeaways in terms of what I can be doing to become more knowledgeable as well as your incredible values and sense of giving back to life and helping people.
---
On behalf of the Greater Houston Restaurant Association I want to express my sincere gratitude to you for being our guest speaker at our general membership meeting held on at the King Fish Market. The evening is being talked about by many as one of the best meetings in recent memory. Your observations about quality were insightful. We all need to be reminded from time to time about why we do what we do and what it takes to do it well.
---
I was fortunate to hear you at the conference in San Antonio. You did an excellent job! I think you were the man for the hour. I can't think of anyone that could have spoken more directly to that group with such a meaningful message that applied to all who heard. The message applied to all aspects of life, including work. Thanks for your time and wisdom. I had not heard you prior to this conference, but you now have one more huge fan.
---
I want to thank you for speaking at our Top 150 Supplier Conference. You are an extraordinary person and one of the most engaging and inspirational speakers I've ever heard. Numerous attendees commented to me how much they enjoyed and were moved by your speech. It was the perfect message and will go a long way in helping us build the confidence and trust of our most valued suppliers. It was a pleasure meeting you, and I thank you again for making our conference extra-special!
---
We really enjoyed your participation in our recent management conference. You were extremely well-received! The evaluation scores for your presentation were among the highest we've ever had for an outside speaker. Perhaps we can have you to another of our conferences!
---