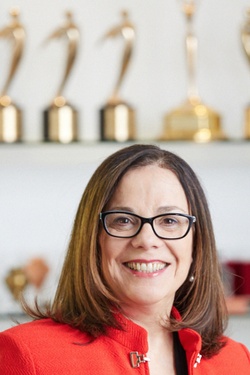 ---
Please contact a GDA agent for information.
---
Topics
Click on the topic name to see other speakers tagged with this topic.
---
Melinda Marcus
Award-winning Persuasion and Influence Expert Increases Your "Win Rate" with Proven Science of Influence Strategies
Select Testimonials
"Melinda engages your audience and gives them specific tools to use in their business development process. Highly recommend!"
---
"Melinda Marcus's presentation to our association of seasoned corporate Marketing Directors was one of the best of the year. Her presentation was not only engaging, but also left everyone in the audience with substantive take-aways they could use in their next pitches. Her presentation style was engrossing, informative and entertaining. At the end of the hour, the audience did not want her to leave."
---
"Melinda is a master at finding the exact right words to telegraph your message to your clients and prospects. She has my highest recommendation."
---
"Get ready to learn persuasive psychology strategies for robust business growth. Five stars to Melinda!"
---
"I applied Melinda's strategies to help our team reach a breakthrough on a major contract. The program offers powerful insights on how to modify your approach to achieve positive business outcomes. I highly recommend her to enhance the way you present yourself and to better understand how to influence others."
---
"Our expertise is in medicine, not in how to answer questions from reporters. I don't remember any classes on that in medical school. Melinda is an expert in verbal communications as well as body language, which makes a positive difference for us both in the media and in patient engagement."
---
"Unlike any presentation you'll see! Powerful concepts with visual impact."
---
"Many motivate . . . but few generate results like Melinda!"
---
"What you gain from Melinda today, you can put directly into action tomorrow."
---
"What you gain from Melinda today, you can put directly into action tomorrow."
---
"She knocked it out of the ballpark for our membership!"
---
"Melinda's strategies are truly transformational! We see dynamic growth in our client relationships."
---
"Melinda gave two keynotes for Texas Instruments international conference, with attendees from the U.S., Germany, France, Mexico, China, and more. She worked closely with me and the teams to customize the content and delivery so everyone got it! Her presentations on Influence are both relevant and entertaining, with lots of audience participation. Two months later, people still stopped me in the hallways to say how much they loved Melinda's keynotes! Highly recommend!"
---
"One of my Business Development Managers used what he learned in Melinda's workshops to gauge body language during a $5 million negotiation. It helped him read the prospect's responses to get the deal to the next stage."
---
"The day after I heard Melinda speak, our company had an important meeting with Walmart. She had showed us how to read body language, which gave us the confidence to know exactly when to ask for decisions. Just as important, we knew whether to ask for more. Her strategies made an immediate positive difference… we are now growing a win-win relationship with Walmart as a valued client."
---