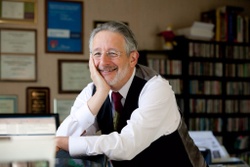 ---
Please contact a GDA agent for information.
---
Topics
Click on the topic name to see other speakers tagged with this topic.
---
Marty Klein
Sex Therapist; Psychotherapist & Couples Counselor; Policy Analyst; Award-Winning Author
Select Testimonials
Your workshop was one of the highest rated presentations. Participants found your humor, clinical experience, and ease with questions particularly valuable.
---
You attracted a huge crowd, and kept the audience engaged throughout. Although we anticipated hecklers, you won everyone over with your sincerity, humor, and expertise. Thanks for a wonderful program!
---
Your excellent presentation was comprehensive, and well received by all. We highly recommend you.
---
Your evaluations were above and beyond all of the others'--you really are a Master Presenter. You did a great job and we look forward to working with you again.
---
Your seminar was packed, and no one was disappointed. You bring expertise in sexuality, law, medicine, and public policy—a tremendous combination.
---
Marty showed how shaping expectation & communication are valuable not only in the bedroom but also in the boardroom and in any type of relationship. Marty is funny, engaging and insightful. His thoughts on sex in different cultures will have you questioning what else you might be surprised to learn.
---
Your second lecture to our physicians received great reviews—like the first. Your ability to put the audience at ease while introducing many thought-provoking and relevant suggestions led to valuable discussions and actual department-level change.
---
We are tremendously pleased with your full-day presentation—clear, creative, and practical, with great case examples all day long.
---
Your full-day presentation on sexuality to 150 therapists dealing with a Mormon-majority population was outstanding. You were able to cover sensitive topics like pornography in ways that were creative and useful to the audience.
---
Your talk was a fantastic start to Safe Sex Week!
---