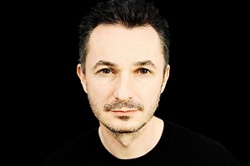 ---
Please contact a GDA agent for information.
---
Topics
Click on the topic name to see other speakers tagged with this topic.
---
Marco Tempest
Cyber-illusionist, Tech innovator, Fellow MIT Media Lab
Select Videos
Demo video of 'Inventing The Impossible' keynote speech

http://www.ted.com Using three iPods like magical props, Marco Tempest spins a clever, surprisingly heartfelt meditation on truth and lies, art and emotion

In this multi-act performance, cyber illusionist Marco Tempest uses augmented reality—along with his copious creativity and talent—to bring a high-tech twist to a magic show. You'll never look at a deck of cards the same way again! Between acts, Marco reflects on the striking similarity between yesterday's magic and today's technological realities, and thus asserts that magicians "prototype the future". This video, recorded at INK Asia in Singapore, will enchant the young and the young at heart.