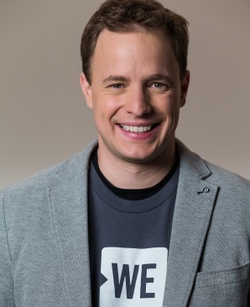 ---
Please contact a GDA agent for information.
---
Topics
Click on the topic name to see other speakers tagged with this topic.
Marc Kielburger
Socially Responsible Business Leader, Rhodes Scholar, Bestselling Author, Co-founder of the WE Organization
Marc and his brother and WE Co-founder, Craig, have grown the WE global community to engage more than 4 million people in service—including 250,000 students who volunteer to earn their tickets to WE Day, the greatest celebration for social good in the world.
They have created an innovative social enterprise model, ME to WE, that sustains the work of their charitable mission with socially conscious products and experiences. They have also developed a holistic development model, WE Villages, that empowers more than one million people in developing communities that WE Charity partners with.
A social entrepreneur with a degree in international relations from Harvard University, Marc has won a Rhodes scholarship and studied law at Oxford University. He has received 10 honorary doctorates and degrees for his work in education and human rights. He has also received many honors, including the Order of Canada, and was selected by the World Economic Forum as one of the world's Young Global Leaders. A New York Times bestselling author and charismatic speaker, Marc was inducted into Canada's Walk of Fame for his humanitarian efforts and his work to empower youth to change the world.
With his dedication to doing good, Marc is helping people around the globe create positive change for today and tomorrow.
---