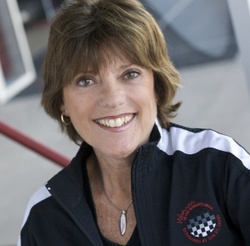 ---
Please contact a GDA agent for information.
---
Topics
Click on the topic name to see other speakers tagged with this topic.
---
Lyn St. James
Retired Professional IndyCar Driver
Lyn's story is not just about being a successful race car driver. It's a story about goal setting, determination, passion and fully utilizing all her defeats and successes to break into a world no one could have imagined possible...
Named one of the "Top 100 Female Athletes of the Century" by Sports Illustrated, Lyn St. James has set 31 national and international speed records and succeeded in the sport of auto racing at levels unparalleled by any other woman. As a competitor in the world's largest sporting event - the Indianapolis 500 - St. James masterfully drove her way to earn Rookie of the Year honors in 1992. Over the course of her impressive career, St. James has set the bar for women in the male-dominated sport of auto racing.
Bringing the excitement from the track to the podium, St. James inspires audiences to find their passion and break their personal speed limits. She has addressed some of the nation's top corporations, sharing her own unique and proven methods for personal development, performance improvement, goal setting, team building and achieving balance in life. As recipient of the "Guiding Woman in Sports Award", the "Office Depot Visionary Sportswoman of the Year", named by Sports Illustrated for Women as "One of the Top 100 Athletes of the Century" and by Working Woman Magazine "One of the 350 women who changed the world between 1976-96", she is also an ideal speaker on women's issues, gender and diversity.
---