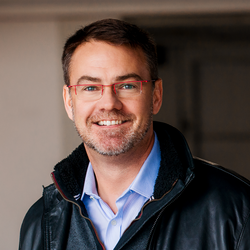 ---
Please contact a GDA agent for information.
---
Topics
Click on the topic name to see other speakers tagged with this topic.
---
Krister Ungerböck
Leadership Language Expert, Global Tech CEO, 100M Growth, 99.3% Employee Engagement, Author of 22 Talk SHIFTs: Tools to Transform Leadership
Krister Ungerböck is a leadership language expert, former global tech CEO and author. His work has appeared in Forbes, Entrepreneur, Inc., HR.com, and Chief Executive. Prior to retiring from corporate life at age 42, Krister was CEO of one of the largest family-owned software companies in the world.
Krister's groundbreaking leadership approach "cracks the code" to employee engagement, increased profitability, and faster growth: Better bosses. What's the simplest, most practical way to build better bosses – or become one? Upgrade your language of leadership. As Krister says, "The easiest way to change how we lead is to change our words."
Krister shares a real, raw, gripping story of success and failure, mistakes and missteps, and business breakups. In captivating keynotes that are both deeply personal and exceptionally action-oriented, audiences and readers don't only learn actionable steps to growth and profitability, they gain surprising insights and self-discovery that shift their perspectives … forever.
His experience is global - Krister has done business in 40 countries, built businesses in 6, and lived in 3. While leading the company to over 3,000% growth, his team created 100 million dollars in shareholder value, won five Top Workplace Awards, achieved remarkable employee engagement levels of 99.3%, and became a dominant player in its market niche — event management software.
Krister's is the author of the viral instant bestseller that was released to rave reviews in October 2020, 22 Talk SHIFTs: TOOLS TO TRANSFORM LEADERSHIP — in Business, in Partnership and in Life.
---