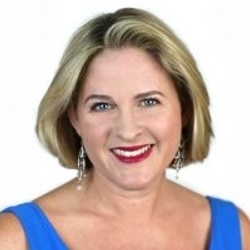 ---
Please contact a GDA agent for information.
---
Topics
Click on the topic name to see other speakers tagged with this topic.
---
Kirsty Spraggon
Courage, Mindfulness & Legacy & How TRUTH is at the core of all.
Select Testimonials
"Our MCC chair credits Kirsty's Truth-Telling" program with preserving her forum and was such a strong advocate for her we've asked Kirsty to lead our upcoming 3-day all-chapter retreat. She'll also be speaking at Xcentric, our regional event, in September." Ryan Cassin EO Dallas Chapter President ----- Kirsty spent a day with our EO forum, helping us to get to the root of tensions that we shared as a group, to give us clarity of the future of our forum and encouraging us to recommit to our forum work. Her work gets to the core of what inhibits true growth and deeper relationships. And she does this in a way that welcomes you in and removes the fears that often stifles us. Shannon Neffendorf CEO Oak Cliff Coffee EO Forum Dallas ------ There are very few speakers who are truly capable of creating meaningful and lasting change. Kirsty Spraggon aka Truth-Teller is one of those elite few who possesses the natural talent to do so. In just one day she was able to identify roadblocks, help us break through as a group and created a shared trust which will benefit us individually and also as a forum. Amy Power Founder and President The Power Group 2018-19 Board Member/EO Dallas
---
Rarely have we seen a speaker who is so engaging, charming, relatable and humorous all at the same time. Our 2000 strong leadership group were enthralled and engrossed in Kirsty's practical yet groundbreaking ideas on relation-shipping and networking. Kirsty lit up the room with her enthusiasm and connected instantly to our team. Kirsty has reignited the flame in many people and as a result has inspired people to new levels of activity with renewed confidence.
---
Kirsty was the perfect Closing Keynote Speaker! She brought our entire conference theme to life. Her energy and positive motivation supported our mission for the conference. Our attendees were energized by her wit and inspired to take on new challenges in their business and professional lives. I would highly recommend Kirsty as a speaker – she is a real pro.
---
"What a thrill it was to have Kirsty keynote at 6 of our Leadership Conferences! She was awesome! The standing ovation at the conclusion of her presentation was an indication that Kirsty was a giant success. Comments like 'I won't be frozen by my fears any longer!' were the results we wanted!"
---
"The ROI has already exceeded our expectations. When your staff are buzzing 2 weeks after the event you know the speaker has had a deep and lasting impact. Kirsty was hands down the most inspirational speaker we have ever had present to our consultants."
---
"Stepping out of fear Kirsty shared a deep personal story that opened her path to freedom. That example of true courage enabled her to impact others who needed to set themselves free."
---
"I truly believe our conference would not have been as successful without Kirsty's contribution and the connection she made with the attendees. When she came off stage there was not a dry eye in the audience. Kirsty is a deep, substantial and impactful speaker. Her talk modeled the depth we wanted to see from the participants at our event, and because of her example, we got it."
---
Kirsty's skillfully captivated our audience from the onset of her arrival. Her dynamic personality and charisma drew many to her as she navigated our conference activities before her keynote address. Many of our members reached out to her after the event to gain further insights about overcoming challenges and how to rise above self-imposed limitations! She filled the room with energy and enthusiasm and got everyone engaged. Her message was on point with our conference theme "Bring It On" and her story resonated with the audience. She empowered the audience to overcome our fears and challenged us to dream big! Her humor was contagious and it enabled Kirsty to connect with audience at a personal level. We love how she has remained engaged with us after our event through social media and emails. We look forward to more interactions with Kirsty, and recommend her highly.
---
Kirsty sparks an inner conversation and an outward connection to truth-telling. She was able to take the audience to deep healing which impacts all those around us. Kind, vulnerable and truly passionate about helping others! Kirsty shared from her soul. She lead with vulnerability. Patience Shutts YPO Certified Forum Facilitator - CFF YPO Certified Mentoring Facilitator - CMF
---