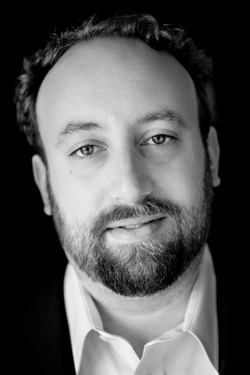 ---
Please contact a GDA agent for information.
---
Topics
Click on the topic name to see other speakers tagged with this topic.
---
Hear Joshua's
Podcast Now
Joshua Safran
Author, Attorney, and Domestic Violence Survivor and Advocate
Joshua Safran is an inspiring, captivating, and much sought-after public speaker. His unique brand of storytelling – at once humorous, compassionate, and educational – has moved audiences around the world.
Joshua is an author, attorney, occasional rabbi and nationally recognized advocate for survivors of domestic abuse and champion for the wrongfully imprisoned. His 7-year legal odyssey to free an incarcerated survivor of domestic violence from prison was featured in the award-winning documentary film CRIME AFTER CRIME, which premiered at the Sundance Film Festival and on the Oprah Winfrey Network. The film won over 25 awards, including the National Board of Review Freedom of Expression Award and the Robert F. Kennedy Journalism Award. Joshua has also received numerous awards and national media coverage for his pro bono advocacy work.
Joshua's critically-acclaimed memoir, Free Spirit: Growing Up On the Road and Off the Grid (Hachette), about his childhood on the dark side of the Age of Aquarius, has been called a "beautiful, powerful memoir. . . reminiscent of David Sedaris's and Augusten Burroughs's best work: introspective, hilarious, and heartbreaking" (Publishers Weekly STARRED REVIEW) and "a remarkable account of survival despite the odds" (Kirkus Reviews). Joshua was born to a coven of lesbian witches in a Haight-Ashbury commune. He spent his childhood hitchhiking, and surviving the elements and a violent alcoholic stepfather from El Salvador before finally finding his way to law school.
Joshua's compelling story has been seen around the world on PBS, CBS, FOX News, and Authors@Google, and heard on the BBC, NPR, PRX, CBS Radio and Talkline. His essays have appeared in Salon, The Daily Beast, Huffington Post and Utne Reader.
---