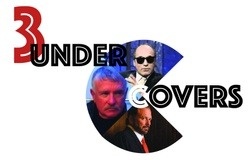 ---
Please contact a GDA agent for information.
---
Topics
Click on the topic name to see other speakers tagged with this topic.
---
Joe Pistone, Billy Queen, and Eddie Follis
Three Undercovers
Joseph D. Pistone
Joseph Pistone is globally recognized by law enforcement, prosecutorial officials, criminal justice academia, and reputable journalists as the iconic and consummate undercover agent. His exploits and accomplishments as a Federal Bureau of Investigations Special Agent operating in deep undercover settings have become the standard on which undercover art and techniques are practiced. In all associative professional quarters and among active operators, Joe Pistone "wrote the book on undercover."
Throughout seven years of operating undercover within the New York Bonanno Mafia Family, he garnered unprecedented insight and perspective into organized crime and its practices. Notwithstanding that he was operating in an undercover capacity, Joe Pistone - or more appropriately - his alias, Donnie Brasco received a "made man" status in the family. Consequently, the Mafia in New York was under fire, and several members of the Bonanno and Colombo Families were sent to federal prison. Also of consequence, Joe Pistone was and remains a marked man; after all, the Mob never forgets.
Subsequently, he was assigned to the FBI Undercover Planning and Development Section at the FBI Academy, Quantico Division. During his tenure, he designed and developed policy, training, and oversight for the FBI's Undercover Operations and Safeguard Programs as a Senior Instructor.
Joe Pistone retired from the FBI in 1996, and immediately thereafter began to provide highly sought-after services as a police training consultant and instructor on undercover operations and transnational organized crime matters.
Recipients of his subject matter expertise include: U.S. Department of Justice; U.S. State Department; U.S. Probation; U.S. Customs; U.S. State and local police; Royal Canadian Mounted Police; International Law Enforcement Academy – Budapest, Hungry; Montenegro National Police; Republics of Serbia and Albania; and several other domestic and international police agencies.
He is a recipient of the Department of Justice - U.S Attorney General's Award of Valor, the J. Edgar Hoover Award, and the FBI Medal of Valor.
He is the author of the New York Times best seller Donnie Brasco: My Undercover Life in the Mafia, which was produced as a major motion picture of the same title, Donnie Brasco (1997), starring Johnny Depp and Al Pacino
Additionally, he has written seven books based on the Donnie Brasco character.
Eddie Follis
Edward Follis is a former USMC investigator and DEA Special Agent of over 27 years. He has been credited for bringing to justice scores of high value domestic and international drug traffickers and narco-terrorists. One of his most notable cases was serving as the primary undercover agent for the investigation and undercover operation that consummated with the 2008 arrest of Taliban/Al Qaeda financial supporter and global drug trafficking Kingpin Haji Juma Khan. At the time of his arrest, Haji Juma Khan managed the largest extant opium and heroin trafficking enterprise in the world. His undercover assignments and accomplishments spanned the globe. Specifically and frequently, he worked undercover in Thailand, Malaysia, Singapore, Myanmar, Jakarta, China, Republic of Mexico, Afghanistan, Egypt, Lebanon, Israel, France, and Pakistan. His undercover work resulted in several extraditions, renditions, and lures of traffickers and narco-terrorists to the United States where they stood accountable to the U.S. justice system.
Over his career, he received several awards and distinctions that include the Attorney General's Award for Valor, a U.S. Congressional Proclamation of Bravery and Distinction, and an appointment to the Department of Justice Senior Executive Service (SES) by the then U.S. Attorney General (2007).
Edward Follis served as a script and creative content contributor as well as set consultant for the Universal Studio and Oliver Stone feature film Savages (2013). He was the subject of the internationally acclaimed BBC Documentary, Undercover Eddie (1993). His autobiographical book titled The Dark Art: My Undercover Life in Global Narco-Terrorism (2014), Gotham Books, New York, NY has been published by nine international publishers and translated into seven languages.
In November 2017, American Made executive producer Johnny Lin's Filmula and 3Arts Entertainment announced they are teaming to develop former DEA undercover agent Edward Follis' memoir The Dark Art: My Undercover Life in Narco-Terrorism for television.
William "Billy" Queen
During Billy Queen's twenty years as a Bureau of Alcohol, Tobacco, Firearms & Explosives criminal investigator, Special Agent William "Billy" Queen spent 17 years working undercover and directing field operations throughout North America. He is particularly renowned for several undercover roles he assumed within outlaw motorcycle gangs, anti-American subversives, recognized hate-crime factions, the Arian Nation, the Ku Klux Klan, the neo-Nazis, the Skin Heads, and the National Alliance. He became an active, accepted member of all these criminal groups while portraying the part of a bigoted, gun-toting drug dealer and professional assassin or "hit-man." His exploits while working undercover for protracted periods or "deep UC" in the ranks of the Hells Angels and Mongols have become legend. The final and most precarious undercover persona he staged was affecting the role of "Billy St. John." As fully patched-in with colors, Billy rode with members of the Mongols outlaw motorcycle gang for more than two years. This long-term investigation sent 53 Mongols to prison for various federal and California state criminal violations ranging from murder to motorcycle theft to wholesale drug trafficking. For his undercover work infiltrating and dismantling the Mongols' chapter leadership and organization, Billy Queen was awarded the Medal of Valor from the U.S. Department of Justice, Drug Enforcement Administration, the Federal Bar Association's Medal of Valor, and the Los Angeles County Sheriff's Department's Commendation of Bravery.
Billy Queen is a decorated United States Army Vietnam Veteran whose last assignment was with C Company, 3rd Bn.,11th Special Forces Group. He is a former member of the High Point Police Department, North Carolina, and previously served as a Special Agent with the United States Border Patrol.
He has authored two bestselling books, Under and Alone (2006) and Armed and Dangerous (2007). He is a New York Times bestselling author.
His current past time activities include racing NASCAR motor cars and small aircraft piloting.
---