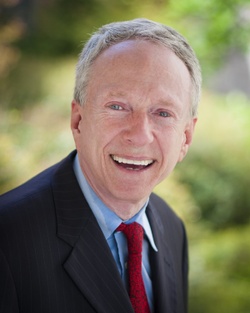 ---
Please contact a GDA agent for information.
---
Topics
Click on the topic name to see other speakers tagged with this topic.
---
Jim Comer
Author, "When Roles Reverse: A Guide to Parenting Your Parents"
For more than twenty-five years Jim worked as a writer, speech coach and creative consultant for Fortune 500 companies such as Avon Products, AMD, Shaklee, Universal Studios, and Rockwell International. In 1996, his life took a sudden detour when his mother was diagnosed with Alzheimer's and his dad a stroke. An only child, Jim quit his job as speechwriter in California, moved back to Texas and tackled the most challenging and rewarding job of his life.

Jim's 14-year journey of caregiving for his parents was a life-changing choice that led to knowing his parents on a deeper level and learning the importance of "showing up" when you're needed, even if it turns your life upside down. After five years in his new role, Jim wrote "When Roles Reverse" and found that his experiences, humor and positive approach helped people deal with their own caregiving issues. In addition to his popular talks on communication skills, Jim created a presentation to help current and future caregivers that has taken him across America.
Whether the subject is communication or caregiving, Jim's speeches and workshop help others to learn from his mistakes and frequently hilarious experiences. Their takeaway is "if he can do it, I can, too." And they can. One of Jim's goals is to encourage families to plan ahead, talk about difficult decisions and help family members realize that they can handle the challenges of care-giving and find joy in showing up for their loved ones.

Jim has spoken to corporations, associations, conferences and churches from Los Angeles to Cancun to Halifax, Nova Scotia. His keynotes include "The Joys and Jolts of Caregiving," "YOU Are the Message," and "How Not to Speak Like a Geek." In addition, he gives presentation skills seminars and intensive workshops on how current and future caregivers can communicate with their families and handle their complex role. Jim message is that "patience is the currency of love."

Jim's articles have appeared in The Reader's Digest, and on the opinion pages of The New York Times, Washington Post, Los Angeles Times and Dallas Morning News. He has written jokes for Joan Rivers and a monologue for the legendary Bob Hope. While working as an actor, he played Snoopy in "You're a Good Man, Charlie Brown," appeared on seven quiz shows including Jeopardy, and wrote a book - How to Survive a Roommate - that landed him on the Today Show. His play, "Behind Every Good Woman, There's Another One!" was produced in Los Angeles.

Jim is a member of the National Speakers Association and was named Member of the Year for the Heart of Texas Chapter. When Roles Reverse was nominated for Best Non-Fiction Book of 2006 by the Writers' League of Texas. Jim is active in Toastmasters, the National Speakers Association, St. Andrew's Presbyterian Church and RESULTS, a citizens lobby working to end hunger and preventable childhood diseases.
---