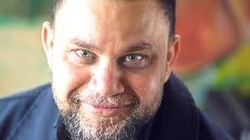 ---
Please contact a GDA agent for information.
---
Topics
Click on the topic name to see other speakers tagged with this topic.
---
Jamie Mustard
Author, The ICONIST: The Art and Science of Standing Out
Jamie Mustard asks, "What do the Mona Lisa, VW Bug, McDonald's Arches, and Andy Warhol's art all have in common?" They follow the simple laws of following BLOCKS™ which are primal, simple and magnetic laws of winning follower-ship and well as influencing with mind-searing branding.
Through his work Jamie has observed the primal laws of BLOCKS™ which explain why anything STANDS OUT and endures the mind - or fails to. In his pending book, The Iconist, through pop stories and comprehensive research, he shows how BLOCKS™ solve the problem of us all being made invisible as we compete for less and less available attention in a messaging and media oversaturated world. He teaches how BLOCKS™ allow anyone in any field to STAND OUT, at will, based on the natural, primordial laws of human perception.
As host of the popular RadioActive talk show on KXL 101.1 FM in Portland, Oregon, Jamie interviewed hundreds of designers, innovators, artists and agents for social change who are having an impact all over the world.

An avid consumer of popular culture Jamie is a graduate of the London School of Economics.
He is obsessed with the "economics of attention" and has consulted for Intel, Cisco and Symantec.
---