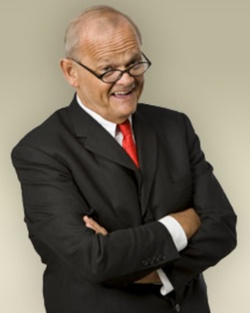 ---
Please contact a GDA agent for information.
---
Topics
Click on the topic name to see other speakers tagged with this topic.
---
Durwood Fincher
America's Funniest Surprise Speaker
As seen on The Today Show, The Mike Huckabee Show, Regis and more, Durwood Fincher brings the house down every time while making your clients sparkle as the stars of his show. Durwood's doubletalk magic--a bumbling orchestration of sense and nonsense, buzzwords and gobbled phrases-brings the audience together in surprise, wonder, delight, confusion and then hysterical laughter.
The real payoff is in Durwood's interviews (pretaped/edited) with handpicked members of your client's company. Posing as Dr. Robert Payne (a reporter or bureaucrat), Durwood interviews selected attendees in advance, stumping them with incoherent questions while prompting for thoughtful answers. Somehow people manage to respond each and every time. It is hysterical. When the interviews are shown to attendees, the audience is rolling in the aisles, happily caught in the act of being human. Durwood may doubletalk, but he clearly understands how to share the universal language of laughter.
---