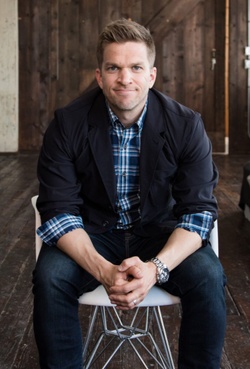 ---
Please contact a GDA agent for information.
---
Topics
Click on the topic name to see other speakers tagged with this topic.
Devin Henderson
Author, Experienced Presenter and Seasoned Performer
A multi-talented powerhouse: an author, experienced presenter and seasoned performer, Devin Henderson has logged thousands of performances as an award-winning comedian and magician, and in-demand keynote speaker over his nearly two decade professional career. Devin's passion is using his unique talents and experiences to inspire individuals and organizations to discover their greatest potential and keep going no matter what.
In 2014, Devin was honored when the producer's of America's Got Talent invited him to Hollywood to audition for Howard Stem, Heidi Klum, Mel B, Howie Mandel, and an audience of 5,000. Although he did not pass the audition and the segment never aired on TV or even made it to You Tube, it was an amazing and pivotal moment in Devin's career and life. This unexpected turn of events, combined with his biggest successes in life, helped shape the message he shares with his audiences about maintaining a positive attitude and coming back from challenges even stronger.
Anyone who meets Devin soon learns there are always new levels of potential available to them, and achieving greatness in work and in life requires commitment, risk, perseverance and is a daily, on-going process. Devin helps people define and strive for their best all while maintaining humility, a sense of humor, and most importantly, a vision for new possibilities. To share this message, Devin's full-length keynote includes a unique combination of magic, storytelling, and audience interaction that audiences have called "unreal," "unexpected," and
"unforgettable."
Devin is a CSP (Certified Speaking Professional), a designation conferred by the National Speakers Association on those who have earned it by meeting strict criteria (think of CSP like the black belt of public speaking). Devin began his entertainment career in 2004 as a comedy magician and soon after began using his comedy and magic to inspire audiences of professionals across the United States.
What originally inspired Devin to become a performer? From piano recitals at age 6, to magic in talent shows at age 12, to drumline competitions in high school and eventually becoming an award-winning magician and professional speaker, Devin has always been passionate about uplifting audiences and inspiring them to achieve new levels of greatness.
Devin hails from Kansas City and is married to the world's most amazing woman. He has seven daughters. Yes, seven. Daughters.
---