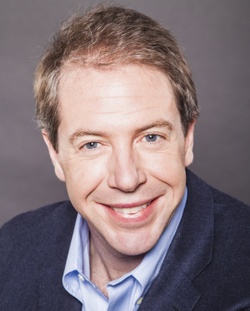 ---
Please contact a GDA agent for information.
---
Topics
Click on the topic name to see other speakers tagged with this topic.
---
Dr. David Ricketts
Featured
Innovator, Scholar and Harvard Innovation Fellow
Harvard Innovation Fellow and award-winning scientist Dr. David Ricketts travels the globe to deliver key insights into how individuals and organizations can spark the innovator inside and utilize those skills for future success. His knowledge of the inner workings of a company from the front line to the CEO are what makes his keynotes memorable, and his innovation process applicable in the truest sense of the word. His innovation insights are especially intriguing since they cover examples from not just corporate gurus, but also those of his Harvard students who might have innovated in a unique way. Dr. Ricketts has worked with some of the world's leading innovative companies including Mastercard, Dell, General Motors, Disney Research and the Harvard Business Review Analytic Service.
As an Innovation Fellow in the Technology and Entrepreneurship Center at Harvard, he co-created and now co-teaches the popular Innovation in Science and Engineering class in the Paulson School of Engineering and Applied Sciences. Dr. Ricketts is also an award-winning, cutting-edge innovator whose scientific research has won numerous awards from top government research agencies and his innovations have been featured extensively in the press. His awards include the National Science Foundation CAREER Award and the U.S. Defense Advanced Projects Agency (DARPA) Young Investigator Award.
Dr. Ricketts is a firm believer in the theory that the creative mind is not limited to a single discipline. He lives life to the fullest by playing the tenor saxophone (performing for international audiences), creates fine furniture and sculptures, and continues to be an explorer in every sense of the word as evidenced by a month long jaunt aboard the Barque Picton Castle, a traditional sail training tall ship.
Early on in his career, Dr. Ricketts learned that those who followed the traditional path did well, but those who had new ideas, who could innovate, were the ones really making a difference. Ever since then, he has shifted his focus to new ideas, new solutions, and new possibilities.
---