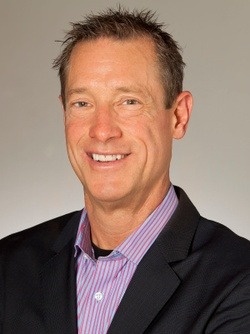 ---
Please contact a GDA agent for information.
---
Topics
Click on the topic name to see other speakers tagged with this topic.
---
Hear David Meerman's
Podcast Now
David Meerman Scott
Business Growth Strategist and WSJ Bestselling Author of Eleven Books, Latest is Fanocracy
Select Testimonials
"David did great. I wanted energy the morning of the event and he delivered. Besides the energy, his message resonated with our partners in the audience as well as our internal Red Hat attendees. I would highly recommend him for other companies looking a ways to improve their marketing particularly around social media."
---
"David, Thank YOU! It was a smashing success. Your energy and message were perfect for our morning session. I am not surprised at all that you were mobbed with questions afterwards."
---
"I have been following David for years.  When I read Fanocracy, I knew he'd be the perfect speaker for our company kickoff. He worked closely with our team to tune his talk to our event theme. His keynote was a huge hit – inspiring, entertaining, provocative! By Day 3 of our event, I heard employees throughout the company using the language of Fanocracy and that's a win."
---
"Thank you for the most compelling keynote I've seen in a very long time. You were, by far, the biggest hit at our event and I overheard several people talk about the importance of fandom in our business. It was a success! I, too, walked away inspired. While I'm writing this from my mobile device (which lacks a proper signature), you'll note that anyone and everyone who gets an email from me will now see my Peloton Leaderboard name."
---
"It was wonderful having David join us for B2BMX19. He was an amazing keynoter and our attendees loved his new topic!"
---
"David was absolutely awesome!! He really blew away the crowd, and I received countless comments on how much great info he shared and how entertaining he was."
---
"David knocked our partners' socks off at the Microsoft Worldwide Partner Conference 2013. Out of 231 sessions presented this year at WPC, David again makes it into the coveted 'Top Ten' in Presenter Effectiveness. The lessons and examples he gives during his presentation provide our partner channel the insights and actionable tools they need to successfully market their businesses in the ever-evolving digital marketing age. I highly recommend David as both a speaker and author."
---
"I attended a Fortune Growth summit 4 years ago and heard David speak and he fundamentally changed the way I saw the future of marketing. For me, David finally answered the question I had been struggling with since the internet and social media became relevant in marketing. Since then, we have implemented many of David's strategies with great success. Flash forward 4 years and we have the honor of David presenting to our entire sales and management team. Since I was already a David Meerman Scott fan, I was hopeful that our salesforce would see what I had seen four years ago and achieve that bridge between sales and marketing that is so critical. Imagine my pleasant surprise when the presentation not only blew our team away, but it was so fresh and up to date with great new pearls of wisdom that I received as much value as the team did."
---
"Unexpectedly AWESOME is the best way I can describe listening to David Meerman Scott's presentation at PSMJ Thrive. Before David I had just about given up on using today's technology always claiming that it was Gen Z teenager's stuff. The impact David made on me and on the entire room of boomers is EXTRAORDINARY compared to the dozens of 'average' speakers that I've heard. I promise that your view of social media will change forever if you have the great fortune to hear David."
---
"David was amazing. So many people came up to me afterwards using the word "transformative" in describing his [Fanocracy] talk."
---