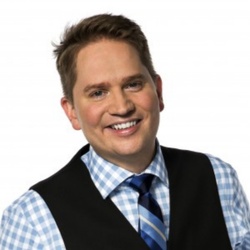 ---
Please contact a GDA agent for information.
---
Topics
Click on the topic name to see other speakers tagged with this topic.
---
Photos
Click on the image to view a high res version.
Hear Dave's
Podcast Now
Dave Crenshaw
Author, Speaker and Business Coach
A highly sought-after author, speaker, and business coach, Dave Crenshaw is the master of helping companies build productive executives, managers, employees, and leaders.
The irony of Dave's mission is that he considers himself very chaotic and inherently unfocused. In fact, he was once diagnosed by a clinical psychologist as "off the charts ADHD." Dave took that diagnosis as a personal challenge, and developed simple systems that fast-paced small business leaders worldwide now utilize to improve focus, structure, and stability.
Dave Crenshaw's humorous and entertaining approach always hits the mark with audiences. His speeches are described as dynamic and life-changing. He also appears frequently in the news worldwide, including Time magazine, FastCompany, USA Today and the BBC News. However, Dave is most proud of being quoted by Chuck Norris in The Official Chuck Norris Fact Book.
His video courses on LinkedIn Learning, such as "Time Management Fundamentals" and "Improving Your Focus," have received millions of views. He has written three books and counting, including The Myth of Multitasking which was published in six languages and is a time management bestseller. His fourth book,The Power of Having Fun, is due for release in September 2017.
He is the founder of Invaluable Inc., a coaching and training corporation that has helped transform thousands of businesses around the world.

Dave lives in the shadow of Utah's Rocky Mountains with his wife and children.
---