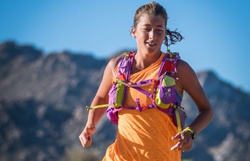 ---
Please contact a GDA agent for information.
---
Topics
Click on the topic name to see other speakers tagged with this topic.
---
Courtney Dauwalter
Ultra-Endurance Athlete
Select Videos
Courtney Dauwalter is one of the most remarkable women in ultra running today. Setting the women's American record for the most miles in a 24 hour endurance race in 2017, her dominance in ultra running has continued to grow. Boundary Breaker takes a look behind the scenes of what makes Courtney tick. If you met her, you would never guess the endurance feats she is capable of and has accomplished. Kind, funny, laid back and sporting her signature long baggy shorts, she embodies the best of the ultra running community.

An interview with Courtney Dauwalter after her win of the 2019 Madeira Island Ultra-Trail.

Courtney Dauwalter is an ultra-marathon runner who recently won the MOAB 240 race in Utah in under 58 hours.