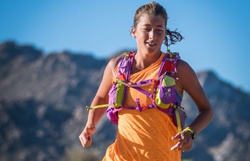 ---
Please contact a GDA agent for information.
---
Topics
Click on the topic name to see other speakers tagged with this topic.
---
Courtney Dauwalter
Ultra-Endurance Athlete
Courtney grew up in Minnesota where her family, coaches, and teammates helped foster a love for competition and endurance sports like cross-country running and nordic skiing. She raced on the nordic ski team at the University of Denver and found herself running a few road marathons post-college. Her entry into distance running snowballed quickly to 50k, 50 mile, and beyond.
Currently, Courtney is an ultra marathon runner living in Colorado. She was the overall winner of the Moab 240 Mile Endurance Run in 2017, ran 279 miles in the 2018 Big's Backyard Ultra, and has competed in many ultra marathons around the world. Her curiosity for what the human body and brain are capable of is what keeps her heading out the door every day to train.
---