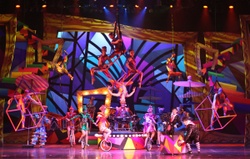 ---
Please contact a GDA agent for information.
---
Topics
Click on the topic name to see other speakers tagged with this topic.
---
Photos
Click on the image to view a high res version.
Cirque Productions
Corporate Entertainment
CIRQUE DREAMS ENTERTAINMENT BRAND…Imagine The Possibilities
Cirque Dreams entertainment brand has evolved over 20 years, astounding audiences worldwide with public touring shows & performances in theaters, casinos, theme parks, internationally, at sea and on Broadway, garnering critical acclaim from "USA Today", "The New York Times", "CNN," "Today Show", "Fox & Friends" and more, continuing to offer unique and customized services for the meeting and special events industry.
What makes Cirque Dreams events so unique is the ability to tailor any program to specific needs for "show-stopping" entertainment blending amazing acts with music, trends and costumes scripted into your program's variables from receptions, food & beverage to speeches, awards & mingling, a spectacle your guests will never forget! Tell us your needs and we'll make it fit your budget, venue, audience, theme…Cirque Dreams Rocks, Avatar Jungle, Hot!, Lights! Camera! Fashion!, Sports, Masquerade, ARTrageous, and more!
the possibilities…
CABARET of DREAMS
Walk-around - interactive - mini-performances. Flexible entertainment for receptions and themed events.

SHOWS & SPECTACLES – Between courses, at intervals or after dinner
Ballrooms - tents - theatres - sports - multiple venues. Custom shows for dinners, banquets, galas.

CIRQUE DREAMS & DINNER
Guests sit in the middle of the action. Currently on Norwegian Epic & Breakaway, USA TODAY proclaims "A show that is among the best, if not the best, we have seen at sea." Can be performed anywhere.

LIGHTS…COSTUMES…ACTION!
Walk-around characters - human scenery - meet & greet. Award-winning characters & costumes.
BUSINESS MEETINGS & INCENTIVES
Product reveals - general sessions - sales meetings - trade shows. Customized performances.

CIRQUE DREAMS KIDSTIME
Laugh - Learn - Participate. An immersive & educational program as an addition to family/group events.
dream studios
We invite you to visit "Dream Studios", a one-of-a-kind 30,000 sq ft production, training, rehearsal and costume manufacturing complex in South FL, a unique entertainment facility supporting full service, multi-faceted show production.
applause for cirque dreams…
"Having coordinated 23 General Meetings, Cirque Dreams has to be the finest banquet performance our group has ever enjoyed. Not one person rose from the table once the show commenced. Cirque Dreams was well received across all demographic lines." Paul Brennan, Director of Public Affairs for The National Board
"The Cirque Dreams Rocks show was a huge success! The entire night was just incredible." Koleen Roach, Director, Meetings & Conference Management for Securian Financial Group

"This was an amazing show, we have used Cirque Dreams twice now and they are a guaranteed success." Dan Young, Director Event Planning & Recognition for Thrivent Financial
"Your show was one of the finest industry events I ever have seen. I`ve been doing this for a while so that`s a huge statement." Trump Doral VP Managing Director
"Thank you for another great performance. Your troupe did a fantastic job for us. Came in on-time, set-up quickly and interfaced with our technical team like we were all family. When it came time for the show, everything ran like clockwork and the audience loved every minute." Jon Buckland, Partner, CKC Inc.e America, garnering critical acclaim from "USA Today", "The New York Times", "CNN," "Today Show", "Fox & Friends" and more.
---