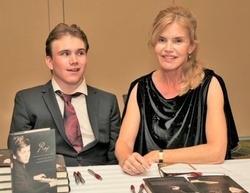 ---
Please contact a GDA agent for information.
---
Topics
Click on the topic name to see other speakers tagged with this topic.
---
Photos
Click on the image to view a high res version.
Rex Lewis-Clack and Cathleen Lewis
Featured
Inspirational Mother and Son Featured on 60 Minutes
Born blind, Rex was diagnosed with autism as a toddler, and then labeled a musical genius (piano) by the age of seven, when musicologists became astounded by Rex's ability to play back complex piano pieces he had heard only once, and then transpose them into other keys or improvise off themes with little effort. Considered a prodigious musical savant, Rex ranks as one of less than 50 people throughout history to combine blindness, intellectual disability, and prodigious musical ability.
At 7, his abilities (coupled with disability) came to the attention of CBS's 60 Minutes, who made the unprecedented decision to follow his life and development. 60 Minutes aired Rex's first profile in 2003 called "Musically Speaking," which was followed by two subsequent profiles, each titled "Rex," the first in 2005, and then a second in 2008 (winner of 2008 Edward R. Murrow Award as Best Feature in a Newsmagazine). Rex has been sharing his life and piano gift with select audiences around the world since the age of 7, inspiring YPO (Young Presidents' Organization) audiences with his unique life and gifted piano playing and helping raise funds and awareness for select causes such as autism, blindness or other disabilities. In 2006, he was the winner of the "Winspiration Award" in Germany for taking the hand he's been dealt in life and using it to not only "win" but also for "inspiring" others to do the same.
Other media coverage includes a 2011 Science Channel profile on a documentary series called "Ingenious Minds" as one of eight segments, each featuring an exceptional life (another segment featured renowned autism expert Temple Grandin). Rex was also featured alongside British Savant Derek Paravicini in the highly acclaimed British Production (in conjunction with Discovery Health) called "The Musical Genius" for the series "Extraordinary People." The profile aired under the title "Musical Savants" on Discovery Health Channel in 2006.
Rex's biography Rex--A Mother, Her Autistic Child and the Music that Transformed their Lives, by Cathleen Lewis was published by Thomas Nelson in 2008 and subsequently translated into seven foreign languages.
In 2013, Rex and Cathleen launched their Foundation Rex and Friends, which supports musical education for individuals who are blind or autistic. Rex has been fortunate to have had support throughout his life, which allowed him to develop his unique piano gift, and by extension then fostered critical development in other areas of his life. Now his Mission through his Foundation is to give that same opportunity to others to "grow their music" and "grow through music."
In 2017 Rex helped bring about a Rex and Friends merger with CRE OUTREACH, which allowed his group to expand. CRE is a non-profit that has for mission "to utilize the performing arts as a means to enhance self-esteem, and to empower individuals to overcome the challenges in their lives." CRE stands for "Create, Reflect, and Empower," concepts that have been instrumental in Rex's own development. Since 2017 Rex has been working with his group to create and perform original music for original theater plays performed by the only all- blind theater troupe in the United States, "Theater by the Blind." In 2018 they opened a dedicated theater in Culver City, "The Blue Door" which houses their play runs.
In 2018 Circa News and 60 Seconds Docs both filmed profiles on Rex that showcased his work with his Rex and Friends group, and how music not only transformed his life, but how he is now helping transform the lives of others through music.
In 2017 60 Minutes celebrated their 50th anniversary and chose Rex as one of a handful of "Most Memorable" subjects since the celebrated Newsmagazine began in 1967, and filmed a 60 Minutes Overtime episode with correspondent Lesley Stahl describing why Rex was so memorable. (Lesley Stahl on meeting Rex, a Blind Savant). 60 Minutes also aired a 2019 Overtime segment devoted to explaining why they began to film follow-ups on very select subjects, and how Rex was one of the first and most notable subjects they chose to update (The Art of the 60 Minutes Follow-up)
---