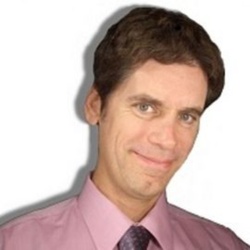 ---
Please contact a GDA agent for information.
---
Topics
Click on the topic name to see other speakers tagged with this topic.
---
Bob Hirschfeld
Business Satirist
"Cybersatirist" Bob Hirschfeld lampoons all aspects of business and technology including social media, time management, big data, cloud computing and even sustainability and energy policies. His presentations are filled with witty satire customized to provide appropriate comic relief for savvy conference audiences. His "Funny Business" presentation takes a humorous look at business with an underlying message to avoid stress associated with change and technology through laughter.
As either an engaging keynote speaker or after-dinner entertainment befitting a savvy business crowd, Hirschfeld will enliven your event with creative satire that will refresh your audience to tackle the rest of your conference agenda.
Hirschfeld has been lampooning business and technology for over 15 years with his own brand of "stand-up with a laptop" satire, created specifically for conferences. His "Funny Business" presentation includes parodies, visual punch lines, and audience participation.
Hirschfeld initially made his mark with a popular humor website awarded a prestigious Top 100 by PC Magazine. He followed this by establishing himself as a business satirist and was profiled in USA Today and The Wall Street Journal for his success.
That's why companies like Forbes, Microsoft, Shell, Cox Communications, the National Association of Homebuilders, and hundreds of others have booked him for to bring laughter to their conferences. No matter what field of business, he will work closely with clients to make his customized presentation a highlight of your event.
Hirschfeld's humor has appeared in Newsweek, The Wall Street Journal, The Washington Post, and USA Today. For several years, he was a contributing writer to Jay Leno for The Tonight Show. Jay calls Bob "one of the top satirists in the country."
---